1) I haven't done a CBO (Cheap Bitch Outfit) in
aaaages
. I think it's harder to dress on the cheap in the winter time. And also? I really prefer tanktops and flipflops to sweaters and boots wif' da fur. I think I've been rotating the same three sweaters all winter -- maybe jazzing it up with a different shirt underneath and alternating my brown and black boots. BO-RING.
This is what I wore to church Sunday:

Why am I doing the Angelina Jolie leg? Please let me know when you figure it out.

This outfit is pretty underwhelming (i.e. BO-RING [again!]) but it was cheap to put together and my husband LOVED it. Probably because I was out of yoga pants and the shirt wasn't holey, stained, or had been in my dresser since circa 1999.
Anyhow -- CBO stats:
Pants, The Limited, $2 yard sale find (they also made an appearance
here
!)
Shirt, Express, $1 yard sale find
Camisole, Forever 21, $3
Necklace, $3, Body Central
The boots were purchased back in 2007 -- making them older than two of my children. Whatever I (And by
I,
I mean Eddie -- we weren't married at the time and hadn't combined our incomes) paid for them they were worth it because here it is six seasons later and I'm still wearing them. Also, they came from Payless and I'm pretty sure they were in the $40 range. Winning!
So not counting the boots (come on, ya'll, they were a GIFT) the whole outfit was about $10!
2) How about another type of CBO?
Cheap
Baby
Outfit.
One of the best things about having a baby girl? LAYERING. This little girl has so many summer dresses that can be turned into winter dresses with a pair of tights/ leggings and a sweater.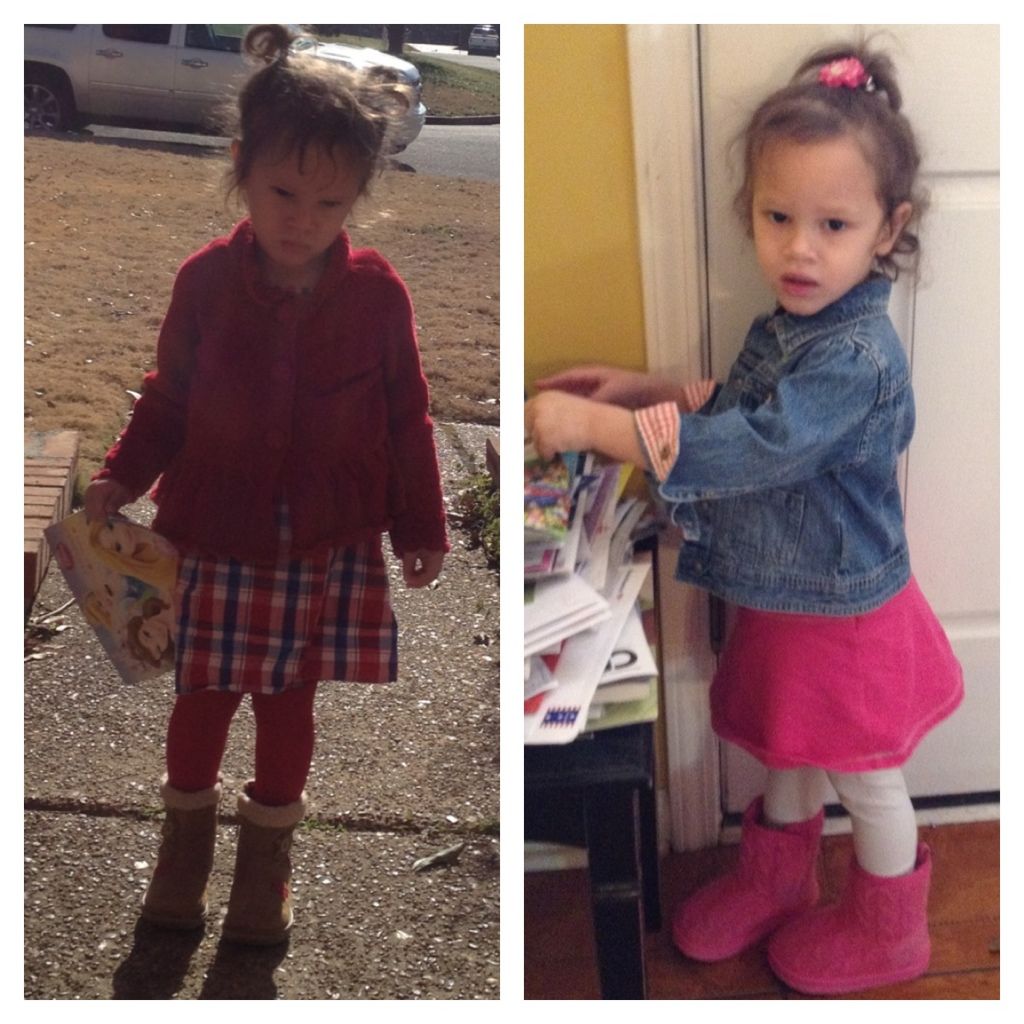 Evil much in that first pic? Jeeez!

Everything - with the exception of the red tights and pink boots - was purchased at yard sales or on consignment. The pink boots were just $8 on Black Friday!
3) Speaking of consignment -- one of the kids' consignment shops in my area had a special last Friday and everything on their $1 racks was BOGO. I was able to get a shirt and dress for Karis and two pairs of pants for Kyan to wear to school next year (gasp!) for $2. Can't beat that.
4) How is potty training going you ask? Well, I want to PUNCH IN THE THROAT every single person who claims to have trained a child by age 18 months. That's how it's going, friends. That's.how.it's.going.
5) The episode of
Friends
where Ross and Rachel get drunk (and subsequently married) was on yesterday. Favorite!
6) The Birds got his report card yesterday.
Perfect again! So proud of him.
7) So, like everybody on Facebook was all "Lee Brice!" "I Drive Your Truck!" "Must hear this song!"
Assholes.
I looked it up. And then I cried. Cause, like I said,
assholes.
If you decide to look it up, well, can't say I didn't warn you.
Also, I love country music but it's pretty rare that I listen to country radio. I was thinking
Lee Brice
was the guy who was runner-up on
American Idol
several years ago. I was thinking WRONG. Apparently that was
Bo Bice.
So, not really even close. Huh.
8) I've yet to drop any of the four holiday pounds that are [still] hanging around. Not a big deal. I just want to be back at my pre-holiday weight before I go to New York in March.
However
. The other day Kyan told me my "big butt" was looking "even bigger than usual." What the? Man. No one can tell the truth quite like a four-year-old. Sheesh.
9) The winter time makes me ugly (fat, pale, bad skin) and, apparently, it also makes me pretty damn boring. Apologies.
10)
This.