School mornings at my house generally go something like this, "JAIDAN! Finish your breakfast!" "Jaidan! Brush teeth! Wash face! Now!" "Kyan, if you're going to go with me to take Jaidan to school you have to put your shoes on." "Sh-CRAP! I haven't made your lunch yet, Jaybird!" Chaos. It doesn't matter how early I get up. It's always like that. Always. Which is reason numero uno that I write blog posts in advance and set them to publish around 8:00 a.m. Except for yesterday's entry? I forgot to hit "publish" and Blogger, well, it doesn't really read my mind so it didn't know to publish the entry. Totes putting the blame on Blogger. Anyhow. You can check it out
here
if you're so inclined. You never know, there might be something really amazing in that entry. Like a giveaway for a car. Or, you know, me ragging on the new Arkansas coach for not knowing how to call the Hogs.
Okay. Now that that is out of the way let's get on with the show!
Since this is (probably) my last post about our cruise, I feel the need to bombard you with pictures I haven't shown yet.
Like these: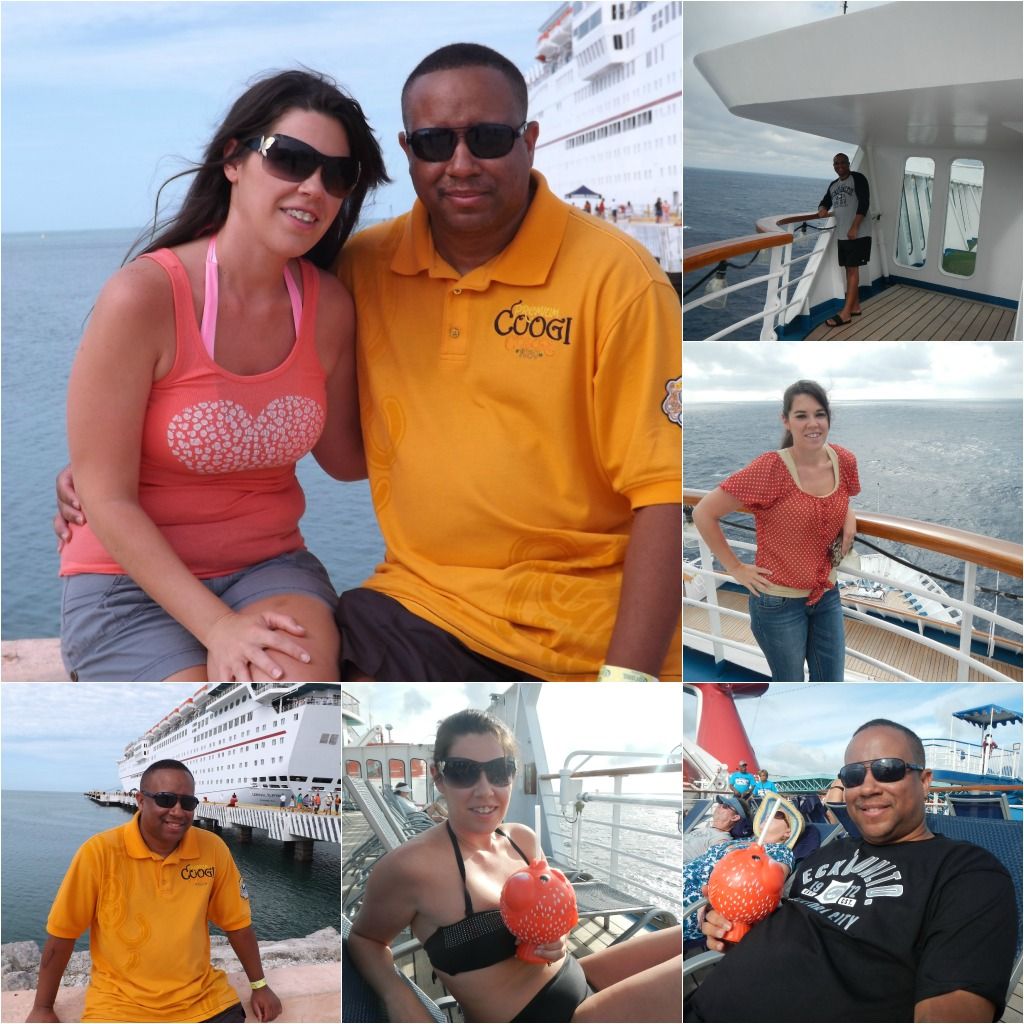 And these! Towel animals are, like, the third best thing about cruises. After, you know, the FOOD on board and the ability to purchase duty-free liquor.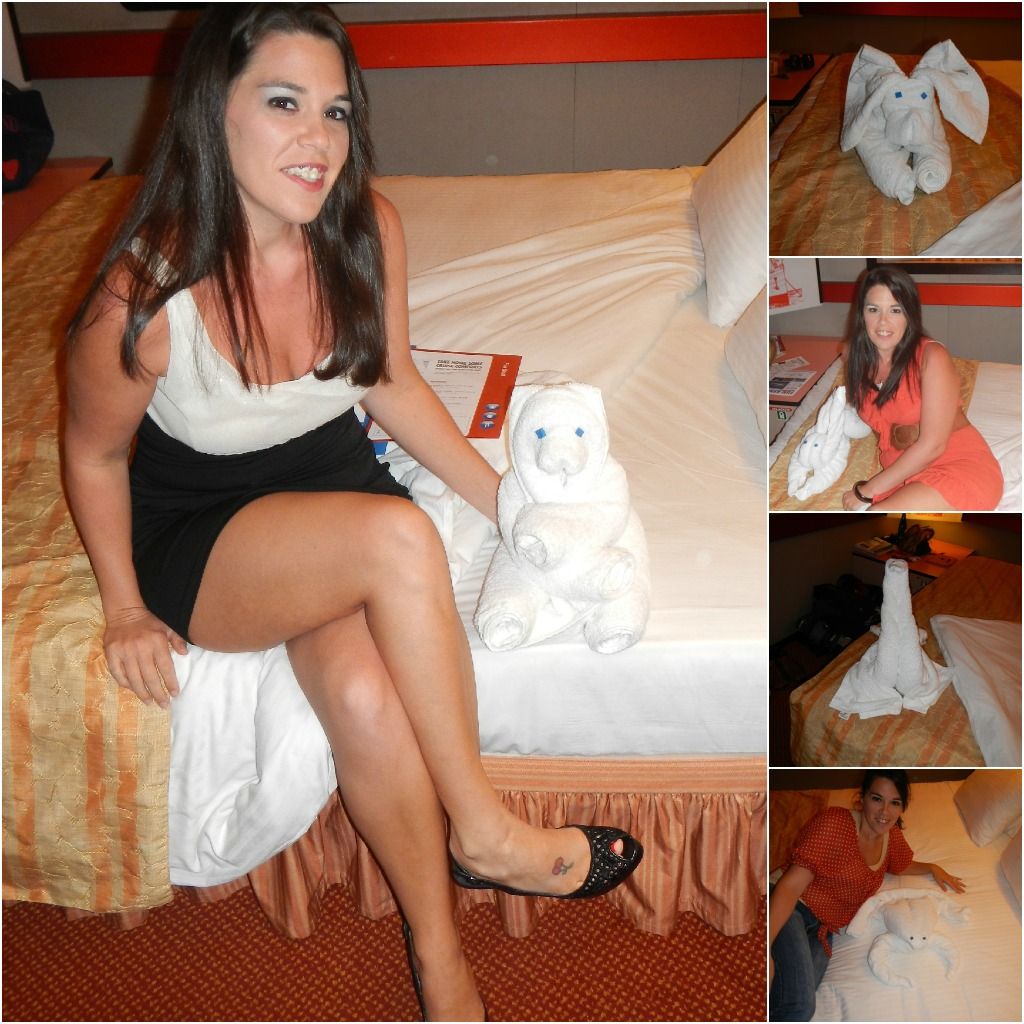 I also feel the need to tell you a few things that might have been missed/ skipped over/ forgotten about in previous posts:
1) We sailed the Carnival Elation out of New Orleans.
The Elation is a little bit older in terms of Carnival ships. And there was - for real, not making this up - a
murder
on the boat several years ago. HOWEVER. I would totally recommend this ship and this particular cruise to anybody. We had a great time. The boat was clean, the elevators worked, our room was the perfect size for the two of us, and the staff was above and beyond in terms of friendliness.
2) I have a sun allergy. You can add that to my list of reasons why Life Ain't Fair because, really? Why couldn't God/ the universe/ whoever inflict a sun allergy on a Cullen-wannabe and leave me be? I first discovered this allergy during a 2009 trip to Gulf Shores, Alabama, when I broke out everywhere my bathing suit didn't cover. Since then, I've broken out a little bit the first time getting into the sun each spring/ summer. Nothing near as bad as what happened in Gulf Shores. Then this trip happened. I broke out a little while we were in Progreso, was fine while we were in Cozumel. On our last day, while we were sailing through the Gulf back home, I laid out for an hour. I went in and realized I looked like I had some sort of communicable disease! It was so disgusting that I had to change what I was going to wear that night. What.the.eff. I've come to the conclusion that the Gulf sun really, really aggravates my allergy.
3) The sunset leaving New Orleans:
The view we had made me wish I knew how to use - really use - my Big Girl Camera!


4) Speaking of New Orleans. Let me tell you about what happened before we got on the boat. We
should have
had plenty of time that Monday morning to explore the city. And by "explore the city" I mean eat beignets and go to the French Market to get alligator sausage on a stick and pick up some crawfish bisque and maybe have a sammich at Mother's and top it all of with a hurricane from Pat O's. However, due to a comedy of errors that would take way too long to try to explain, we ended up running behind (such is life with my husband) and . . . and . . . and . . . guess where I ate brunch that Monday.
Just guess.
CHIK-FIL-A!
I KNOW!
I was in the Food Capital of the World and I ate overpriced (but, OMG, so good, so long since I had any) hate chicken from a mall food court.
5) Speaking of New Orleans
again
, when we got back from our cruise on Saturday we had every intention of staying a night. Had a hotel room booked and all that jazz. Then we went to eat lunch at Frank's. Frank's is my favorite restaurant in New Orleans. I love their muffalettas and the crab stuffed mushrooms and their pepper sauce is to.die.for. I was so excited to introduce Eddie to it. Our food was great but the service was seriously so incredibly awful. Like, no words for just how awful. Like, we always tip no matter what we just left the server a buck and she really didn't even deserve that. After eating, we wandered around the French Quarter and Bourbon Street a bit. It was really, really, WAY crowded. I think that's just how those parts of NOLA are but, frankly, we weren't in the right spirits for the crowds. We missed our kids, too, and decided just to head home that night.
6) Anytime we told someone we were from Memphis they responded just like this: "MEMPHIS!" If I hadn't already taken my make up off I would
totally
do a video blog of just how exactly they said it.
7) We really, really enjoyed the comedy shows on board. For the life of me, I cannot remember the names of either of the comedians but they were both pretty darn good. One had awesome material and the other was best when interacting with the audience. I wasn't sure what to expect with cruise ship comedy but we saw four different shows (two comedians, two nights) and enjoyed all of them very much. My only complaint was that the last show the last night on board didn't start until 11:45. This at the end of a five-night-cruise! Yeah. I was sawing logs by 11:45.
8) I LOVE karaoke but it's hard to encourage my husband to sit (suffer?) through it. We did catch a Michael Jackson contest one night and it was SO FUNNY. Loved it!
9) Corona is really good after you've thrown back eight or nine rum punches.

10) I can't wait to go again!
Re: The Title of this Post -- Come on! I can't be the only one who didn't realize "Cruisin'" was a Smokey Robinson song. In my defense, the title totally sounds like something a group with "Captain" in the name would sing. And, also, it was released the year before I was born. AND I'm pretty sure most of my knowlege of the song comes from that dumb karaoke movie with Gwynth Paltrow. SO THERE.