1) I found out the other night that . . . I'm going to be an aunt again! My brother and sister-in-law are expecting their second baby summer 2013. Karis is really hoping for a girl cousin. She's outnumbered on that side of the family and not too happy about it!
2) I feel totally on top of things this holiday season. Which, of course, means the odds of something happening to knock me off the top are very VERY high. Anyhow. I dropped $waytoomuch at Target on stocking stuffers for the little kids late last week. I also picked up Christmas jammies for the boys (Children's Place) and, with that, I'm done with those three. I ordered some presents online over the weekend and only have a couple more to buy. Christmas - I OWN you this year!
3) Speaking of . . . the halls are all decked! I don't have a huge amount of Christmas decorations. Here's the story: I had a lot of stuff, moved in a hurry when getting out of a sucky relationship and lost most of what I had. Ended up losing several more pieces here and there over the years. When Eddie and I got married I literally had, like, a ceramic Santa Claus my grandma made and the advent calendar from when my brother and I were young. Over the past few years I've picked up a few things here and there. I try to shop after Christmas sales and I love finding things at garage sales. We're getting more and more stuff every year. Maybe it won't be too many years until we'll once again have the house Christmas threw up on!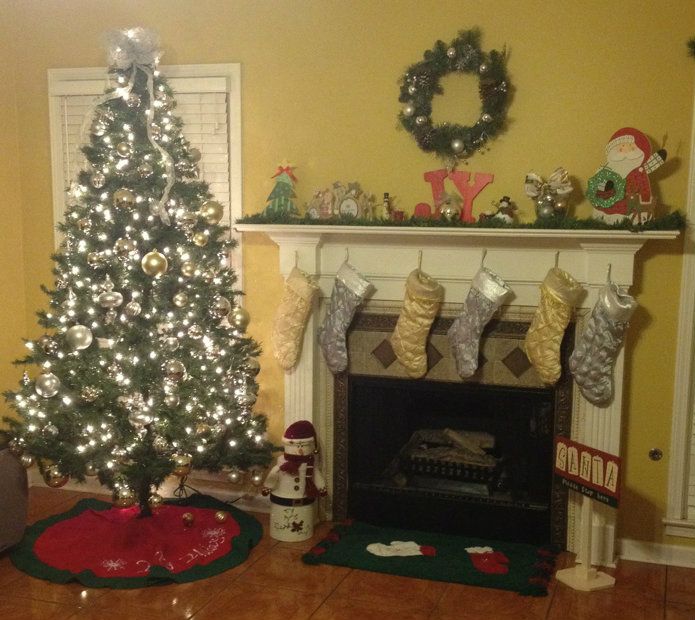 The tree and fireplace
You are so welcome for the view of the crap under my TV stand.
I made the wreath. I based the whole thing off that snowman and then didn't even really like it when it was done. But I put enough time into it that, damnit, I was going to hang it up.
I also made the thing with the Santa pictures. I used a memo board I bought at a yard sale (and I really should've pained it red!), scrapbook paper, and I bought the "Santa" and "Noel" from the Target dollar bins!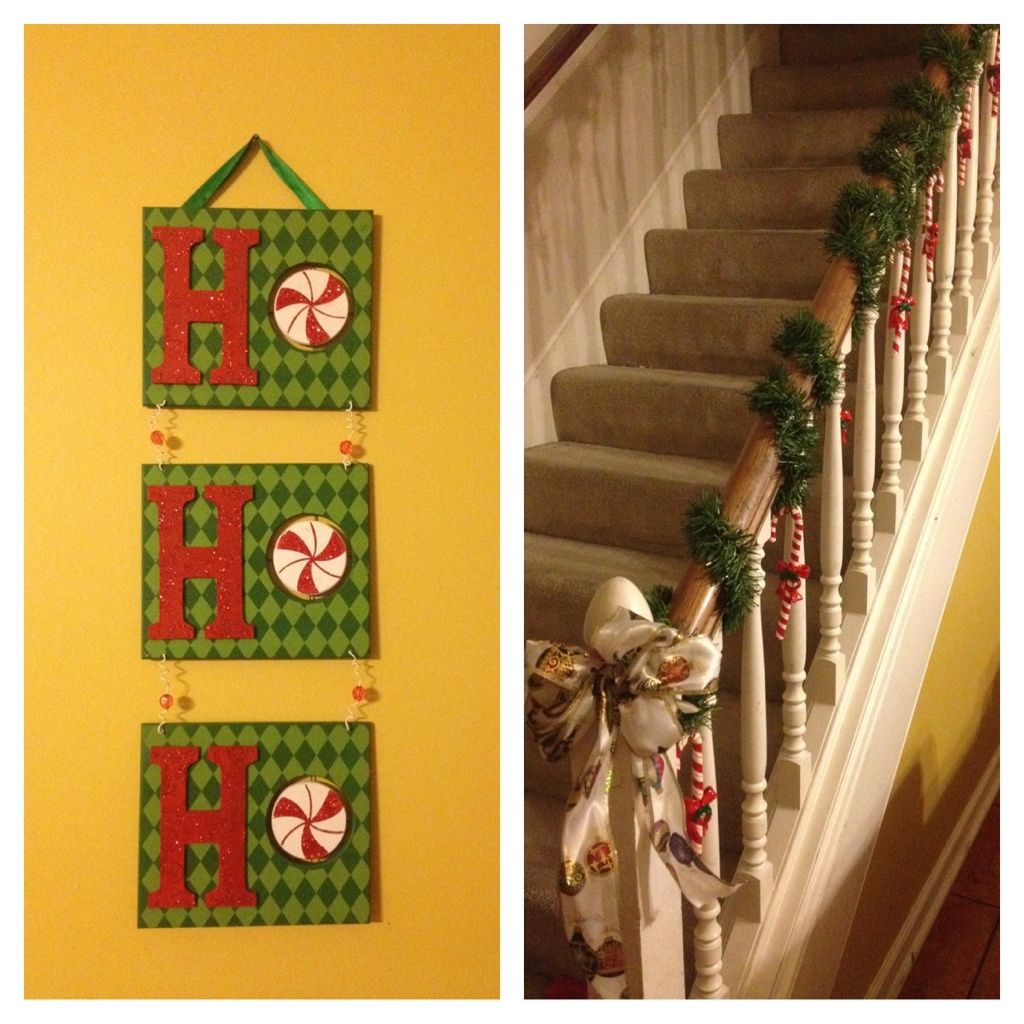 The "Ho Ho Ho" came from Hobby Lobby - they already have Christmas stuff 50% off. I might have been there three times last week.
The advent calendar that's a hand-me-down from my childhood. My brother and I used to duke it out over who got to change that mouse.
I found the Santa and Snowman hangings at . . . Dollar Tree! I needed something to hang in my entryway and there they were. I took this pic right after I hung them. They've since started to hang flatter.
The "JOY" has been going around Pinterest for a while and I decided to do it this year. My stepdaughter asked me what "JY" stood for then told me the ornament looked like an acorn. Fun.
4) So. You know how my girlfriends and I go to New Orleans every year around Mardi Gras time? Well. Mardi Gras is earlier this year so we decided we'd go for St. Patrick's Day. Then we checked the prices for rentals on St. Patrick's Day and decided we'd go the following weekend. Then. The airlines decided to be total and complete a-holes with fares. I'm talking $500 and $600 fares. I live close enough that I don't have to fly but if I wanted to? Nearly $400. More than I paid to go to Vegas! So we talked and we discussed and we hashed it out. And the other night we decided that, rather than going to NOLA, we'll be headed east in March.
We're going to New York City!
I've never been to NYC. I CANNOT WAIT.
5) Kid Brag: Jaidan had math testing last week. 100 basic addition problems (kindergarten, y'all). He was one of only two kids who got every single problem correct. For his hard work he was rewarded a certificate for a free sandwich from Arby's. So Tuesday afternoon, just the two of us had a little "Mommy/ Jaidan" date to celebrate. I'm so proud of my kid!
6) My kids wrote letters to Santa the other day:
Yeah. My kid wants a "magical shell that's pink and big."
7) Arkansas has a new coach. I repeat: ARKANSAS HAS A NEW COACH. And it looks like he's going to be a pretty good one. There's just one problem with Mr. Bret Bielema. Here he is calling the Hogs. Sort of.
I can't credit because I totally stole it off someone's Facebook.
If you're not from Arkansas, or an Arkansas fan, you may not realize what's wrong with this picture. But, y'all. HE IS DOING IT WRONG. His arms, this Hog call, it's just all wrong. I'm going to give him a pass because his last coaching job was at a Big 10 school, God bless him, and also because he literally grew up on a hog farm. So, yeah, he gets a pass from me. We'll call 'em, Bret. You just WIN 'em. Got it?
8) If you ask Karis what Santa Claus says she tells you, "Buzz Lightyear, to the rescue!" Oh, that one. She sure is pretty. She also has a habit of saying "me" when she means "my." For example: "I hurt me toe." We've started calling her the little pirate so now she walks around telling us, "Arr! I a pi-wat." Two-year-olds are so much fun. When they're not laying down in the parking lot of Taco Bell because you got your gorditas and quesadillas to go rather than letting her dine in. True story.
9) When I was growing up, the church I attended did a live nativity every Christmas season. My family usually did something to help out with. My dad was a wiseman and one year my brother played the part of a beggar convincingly enough that he earned about $20. I want to take my kids to a living nativity this year. I'm not entirely sure why seeing as I'll have the Parking Lot Fit Drama Queen with me. But, I suppose, it's a tradition I'd like to start.
Memphis is the king of the mega church. Every single church here, it seems, is HUGE. I'm talking, they have to have "campus maps." To get around a church! Whatever happened to a sanctuary, fellowship hall, and a few Sunday School classes? The church where we did our early voting has (at least) four different entrances, it's own security trucks, and has police directing traffic on Sunday mornings and Wednesday nights. Geez. You'd think with so many mega churches it would be easy to find a living nativity. It's NOT. There are a few but none - that I've found, using my BFF Google - that are in my general area. I want to experience this. I don't want to drive all over town to freeze my tush off and see a fake baby Jesus. You dig?
10) This. So this.