People go on cruises for one reason, right? To eat. I mean, I'm sure there are people who go to see the ports and possibly to relax and maybe just for the whole
cruise
experience. But I'm pretty sure that 99.9% of people have one thing in mind when they step on those boats: FOOOOOOD.
I am the 99.9%.
My goals for the cruise were to eat and to sleep. And I did not disappoint myself. Oh boy, did I live up to those goals. I took a nap every single day and the very first thing I did when I got on that boat? I ate!
See?
FOOOOOOD.

Let's talk about that first meal for a minute here. We ate at Tiffany's, which is a buffet, on the Lido deck. They were making burgers and also had a Mongolian grill on the deck but we headed inside where the buffet was set up with Italian favorites. I had some super delicious penne pasta, discovered that eggplant parmesan can be the bomb(dot)com when I'm not the one making it, and ate my weight in this onion frittata bread. We didn't always have the best luck with the buffet but on that particular day? Oh yeah. So good.
We skipped the buffet for our evening meal every night and ate in the main dining room. We were offered three courses for each meal, an appetizer, a main course, and a dessert. My kind of dining.
Now, the first couple of nights we restrained ourselves and only ordered one of each course per person. After that though? No holds barred. We saw a couple of apps we wanted? Ordered them both. Wanted two or three main courses? So what? Too bad we didn't think to order more than one of each course on lobster night . . .
Cheese plate (this is actually included on the dessert menu but I decided to try it for an app). The bleu cheese was *holds nose* but everything else was pretty much delish.
Fried shrimp -- I'm from Arkansas. Ya'll done KNOW I liked this
Fried alligator (I almost typed fried alligator balls but didn't want anyone to think I was ingesting reptile testicles) - Meh. I've had better allligator in Memphis.
Frog legs - Better than the ones I had in Chicago a few years ago but still not great
Sushi - decent
Tiniest crab cake ever - Delish!
Lasagna Bolognese - Oh mayyyyyyne. Good stuff. So good.
Lobster tail, shrimp, and mashed potatoes - I'd had lobster bisque before but never like
lobster
lobster. Mostly because I would see the prices and think "aw, hell naw." But given that I'd kinda already paid for this lobster (in my cruise ticket price), I knew I had to eat it. It was super good! It also meant I was able to cross something off my
'40 List
.' I KNOW! Who puts "lobster" on their 40 list?
Fried fish and shrimp with curly fries and onion rings - Again, I'm from Arkansas. Draw your own conclusions.
Veal parmigana, cheesey potatoes, grilled zuchinni and onion - The veal was probably my favorite main dish of anything we had on the entire cruise. It was delicious! I was disappointed in the potatoes and, not to sound like an asshole, but the way I make zukes is much tastier.

This was a five night cruise so there was, of course, another meal. For some reason I didn't take a picture -- I suppose I was too busy diving headfirst. My main course that night was pork loin with mashed sweet potatoes. The pork was really good and, crazy thing, I really don't care for sweet potatoes but those were mmm mmm MMM.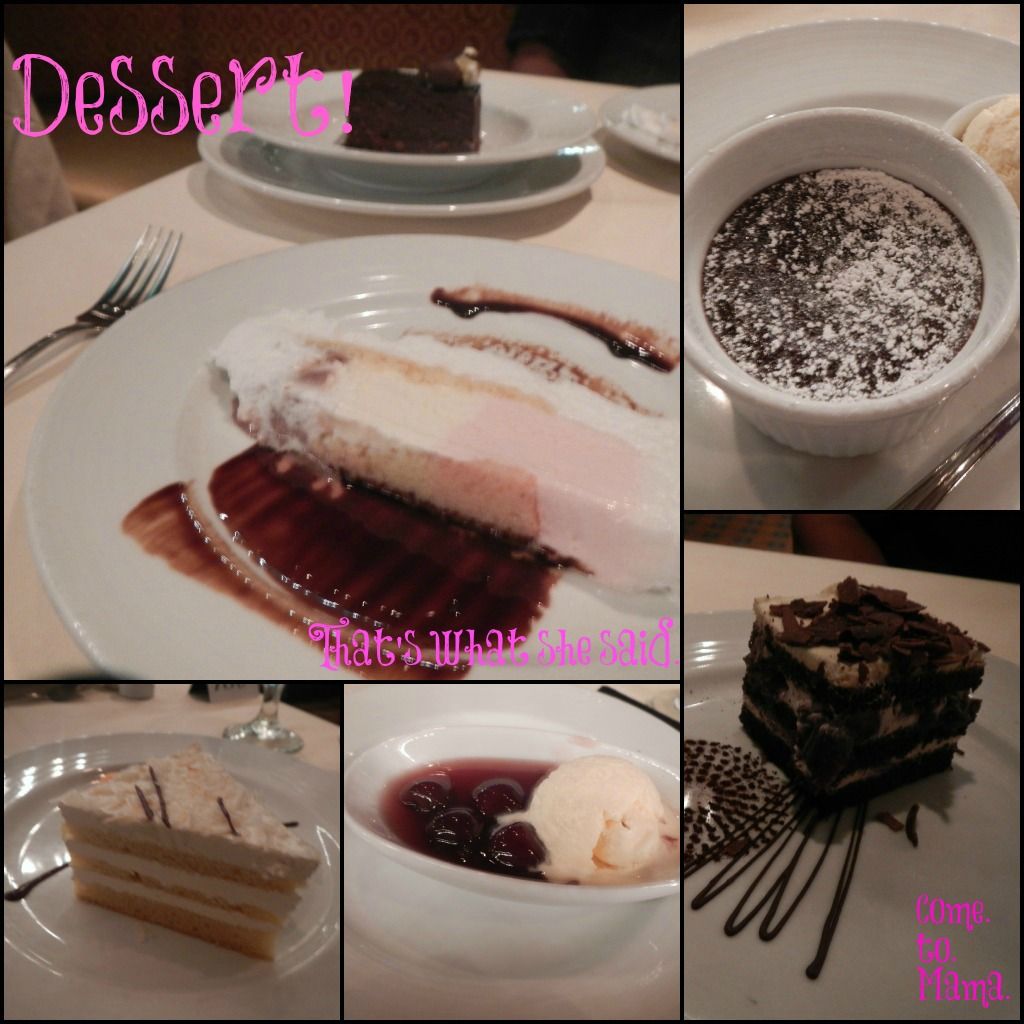 Baked Alaska - absolutely DELISH, best dessert of the entire trip
Melting chocolate cake - I had this twice. The first time it was super good; the second it wasn't quite as good.
Can't remember the name of this chocolate cake - It was okay
Cherries in Brandy sauce with vanilla bean - Yum, yum, yummy -- there just wasn't enough of it!
Sugar free Coconut Cake - Hands down, the ickiest desert we had of the entire trip. Yick.
Believe it or not, I took NO pictures of breakfast or lunch! Breakfast was pretty much the same whether you ate in the dining room or at the buffet. It was really good but by the end of the trip I was pretty much over omelettes and big hearty breakfasts. We tried the buffet for lunch one day - it was American food, fried chicken and the like, and we were both fairly unimpressed. I will say this for the buffet, though, burgers and fries at midnight? Ahhh. Come to Mama.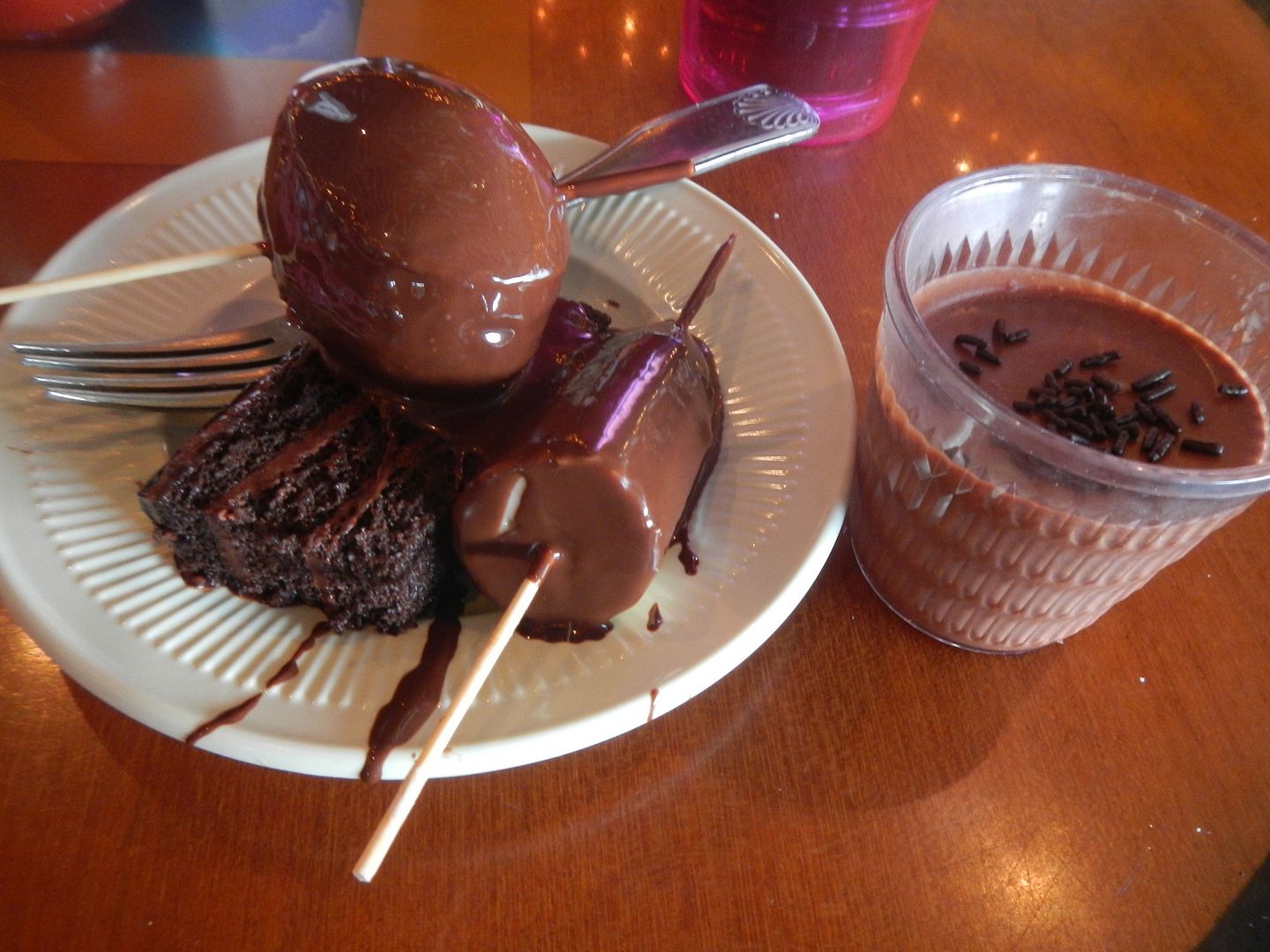 There was a "chocolate extravaganza" the last day on the boat. Extravaganza was kind of a stretch. It was lame. With extra lamesauce. What you see pictured is a piece of chocolate cake, chocolate covered donut, chocolate covered banana, and chocolate pudding. The cake was delicious. The rest was
meh.
You know that cheap Easter chocolate? The kind you can buy a bag of at Dollar Tree? Yeah, that's what the chocolate covering the banana and donut tasted like. And the pudding had a coffee flavor and, well, I don't like coffee.
I can't write an etnry about food without including a tidbit on the resort food we had during our excursions.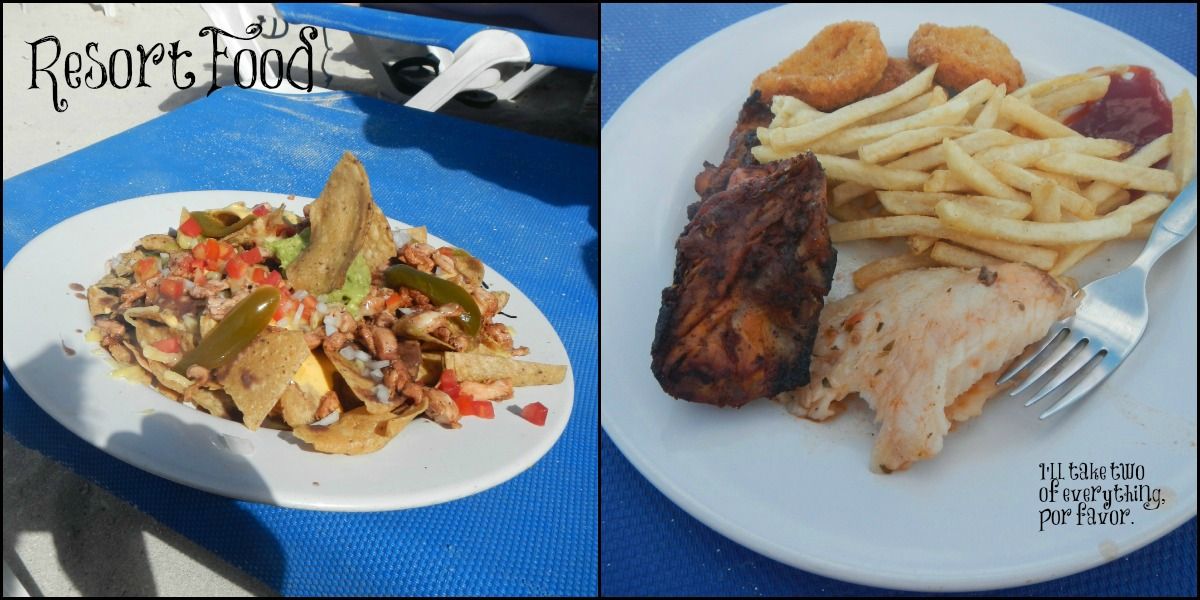 Those chicken nachos came from the Corona Beach club in Progreso and, it may have had something to do with the open bar, but they were absolutely fantastic. Like we killed them within two minutes and were fighting over who would lick the plate.
In Cozumel, our excursion included a buffet. It was advertised as "Mexican favorites" or something of that nature. I was expecting, well, Mexican favorites. Not BBQ chicken and grilled mahi mahi. It was really good food though. Eddie ate a ton of the BBQ chicken and I was all about the fish. The fries were a little meh and the ketchup had a weird flavor.
And that's a look at the grub we threw down on on our trip!