Eddie and I did the whole "pull the cart before the horse" thing when it came to marriage and babies. As a result, I was 7.5 months pregnant on our wedding day and our honeymoon was postponed several months. When Kyan was about six months old -- and a good eight months after repeating our vows -- we took off for a week on southern California and Vegas. This was technically our honeymoon but it doesn't really count because Eddie got sick and, OMG. If you've ever been around a sick man then you
know
. Not the stuff a honeymoon - or any kind of vacation - is made out of.
Don't get me wrong -- we still had a pretty good time. It was my first time being any further west than Colorado. And, in the few days we were there, we got to see and do so much stuff. There was a night out in Hollywood, Knott's Berry Farm, my first ever trip to VEGAS, a Clippers game, Santa Monica Pier. We got to see a lot and do a lot. However, at the risk of sounding whiney and like a brat, it just wasn't . . . it wasn't what we expected.
We've been talking about taking a cruise, a second chance at a honeymoon, for a while
now. At least since '09 when I was pregnant with Karis. It's never worked out, usually due to finances or little things like
being pregnant
or whatever.
But. Last week, we finally bit the bullet and did it. We booked a cruise!
We're leaving out of my favorite city in the whole wide world (New Orleans) and visiting one of the most fun cities in the whole wide world (Cozumel). We will have five wonderful days where reality won't matter and I won't have to hear
"Hey Mommy, look at me!"
and we can eat whatever we want because calories don't matter when you're abroad. Eddie and I have not been away, overnight, since April (and that was for less than 24 hours). Believe it or not, we have had a total of
two
date nights in all of 2012. TWO DATE NIGHTS. To say we need this week away is such a huge understatement. We still don't have all the details worked out (details like a
confimed babysitter
- I didn't want to book before we had someone confirmed but we found a rate that was so awesomeOMGexcellent that we were afraid the price would go up and just bit the bullet) but they'll all work out, right? And in just over a month we can be sunning ourselves in the Caribbean. Ahhhh.
This will be Eddie's first ever cruise and my second. I went on a seven-day out of Galveston several years ago. We made stops in Cozumel, Roatan, Belize, and Cancun and it was just such a wonderful time.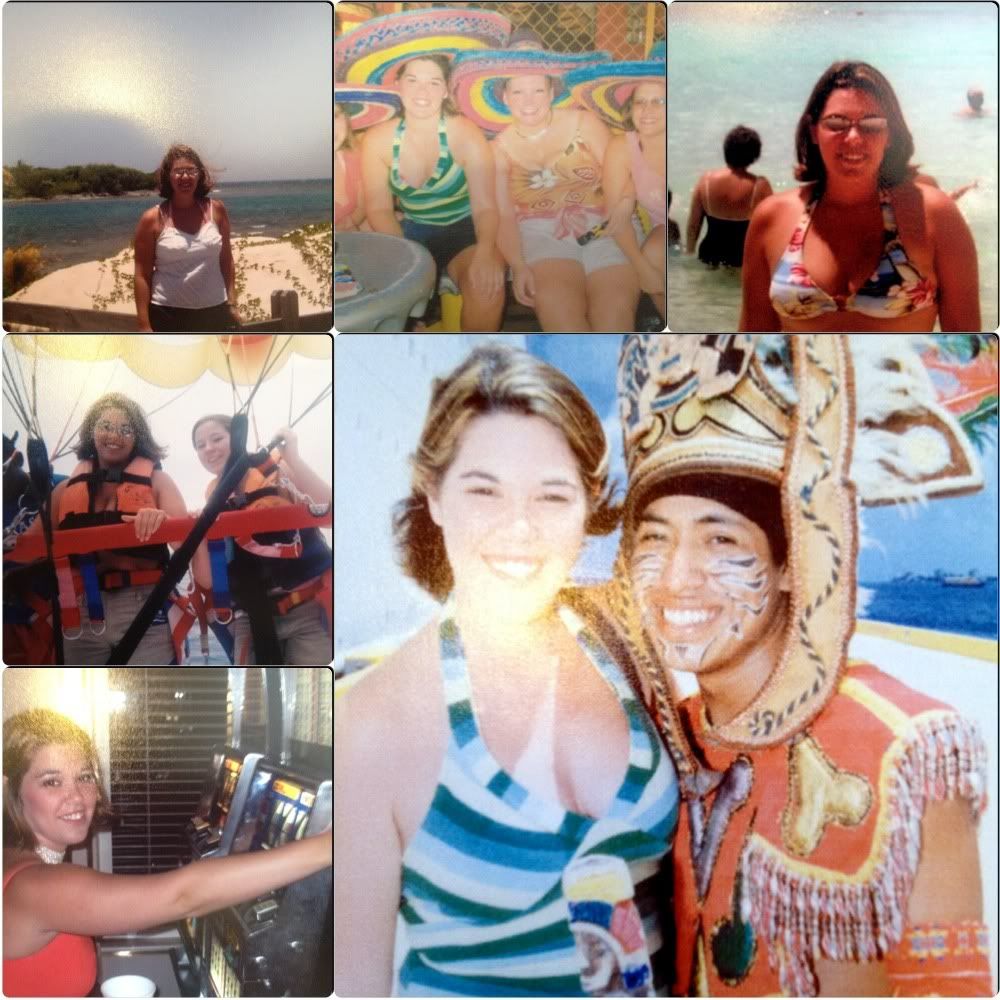 ** Apologies for the quality of the pictures -- I took pictures of pictures with my phone 'cause, ya'll? That was nearly ten years ago and who EVEN knows where those digital files are
I was 24 and single and childless and heartbroken from a recent breakup and on the trip with three girlfriends. The food was delicious, the "stuff to do" was fun, and I could not get over the scenery -- up to this point, my only beach experiences had been with Texas beaches!
I can't wait to do this with the husband. To eat the delicious food and do the fun stuff and lap up the scenery. Of course, there might be a few differences . . .
Watch out, Mexico! We're headed your way!