It gets hot here in the summer.
Really hot.
Like, we went to the spray park yesterday and I think half my face is still there, on a picnic table, where it MELTED OFF.
It's really hard to get outside and do things with the kids unless "do things" involves water. Even early in the mornings, the sun is beating down on you and making it unbearable. No thank you. No thank you very much.
Sooooo. Not being able to do much outside means I have to get creative on finding things for the kids to do. They'll only play so many rounds of "LET'S HAVE A CONTEST TO SEE WHO CAN CLEAN UP THE TOY ROOM THE FASTEST!!!!!" before they start rebelling. And by "rebelling" I mean
whining
.
I've been telling the kids for weeks now that we were going to make homemade bouncy balls. Then kept forgetting to buy Borax. Then I
couldn't find
Borax (in the whole two stores I went to - Walmart and Target - and, yes, I looked in the laundry aisle. Considering I went to Walmart, though, I probably should've checked in the least likely place. Like maybe the bakery. Or men's clothing. Sporting goods). Jaidan was at the point of just blowing up because, "OMG, WE NEED CLORAX (his term) BECAUSE WE HAVE TO MAKE BOUNCY BALLS AND GAK AND SLIME AND OTHER MESSY STUFF BECAUSE I AM SO BORED THAT IMMA DIIIIIIIE."
Creativity for Kids
Craft Kits saved the day. I was never so glad to see GLITTER show up in my mail then the days these bad boys arrived.
We were sent the Mossy Meadows Gnome Garden, Deluxe Glitter Art, and Tile Art Necklace kits to review.
First up was the Mossy Meadows Gnome Garden because, ya'll, that was Gnomeo and Juliet inside that box and we needed to make them a garden!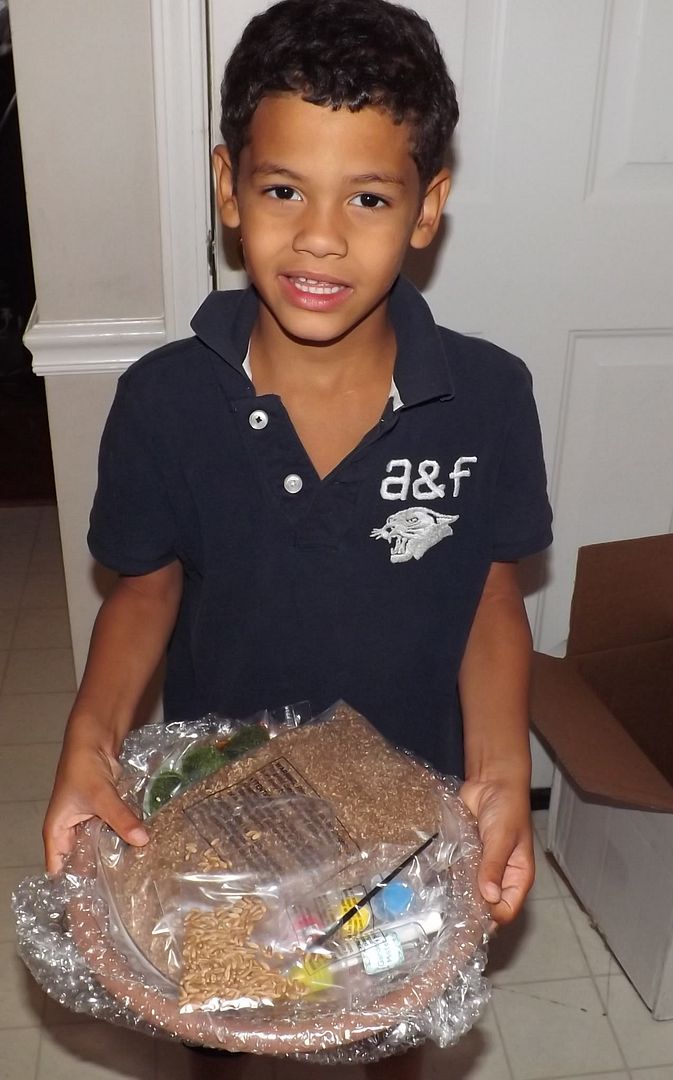 The box says this is an activity for ages seven and up. Jaidan is five (and a half!) and it was perfect for him. Kyan had no desire to so much as try it and I wouldn't let Karis touch it for fear of her, like, huffing potting soil or something.
Jaidan started off painting the planter and stones: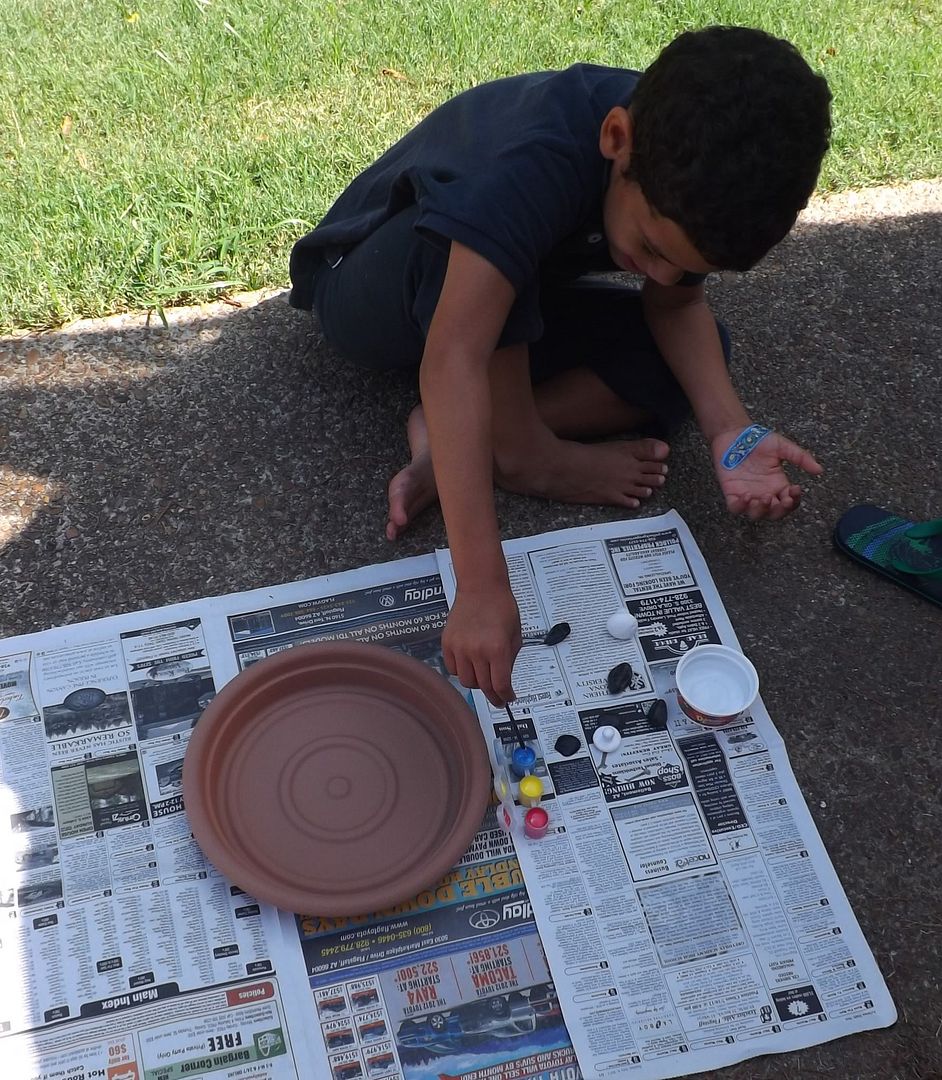 We let it dry outside for, like, two minutes because it's been THAT HOT here. Then we got to work on putting the garden together. I poured the soil in because, hello, he's five and I knew if he did it himself then *I* would get to spend the afternoon cleaning up soil. Yeah. Notsomuch fun. Jaidan put all the fun little gnomes and stuff where he wanted them. Then we sprinkled in the grass seeds and watered the soil.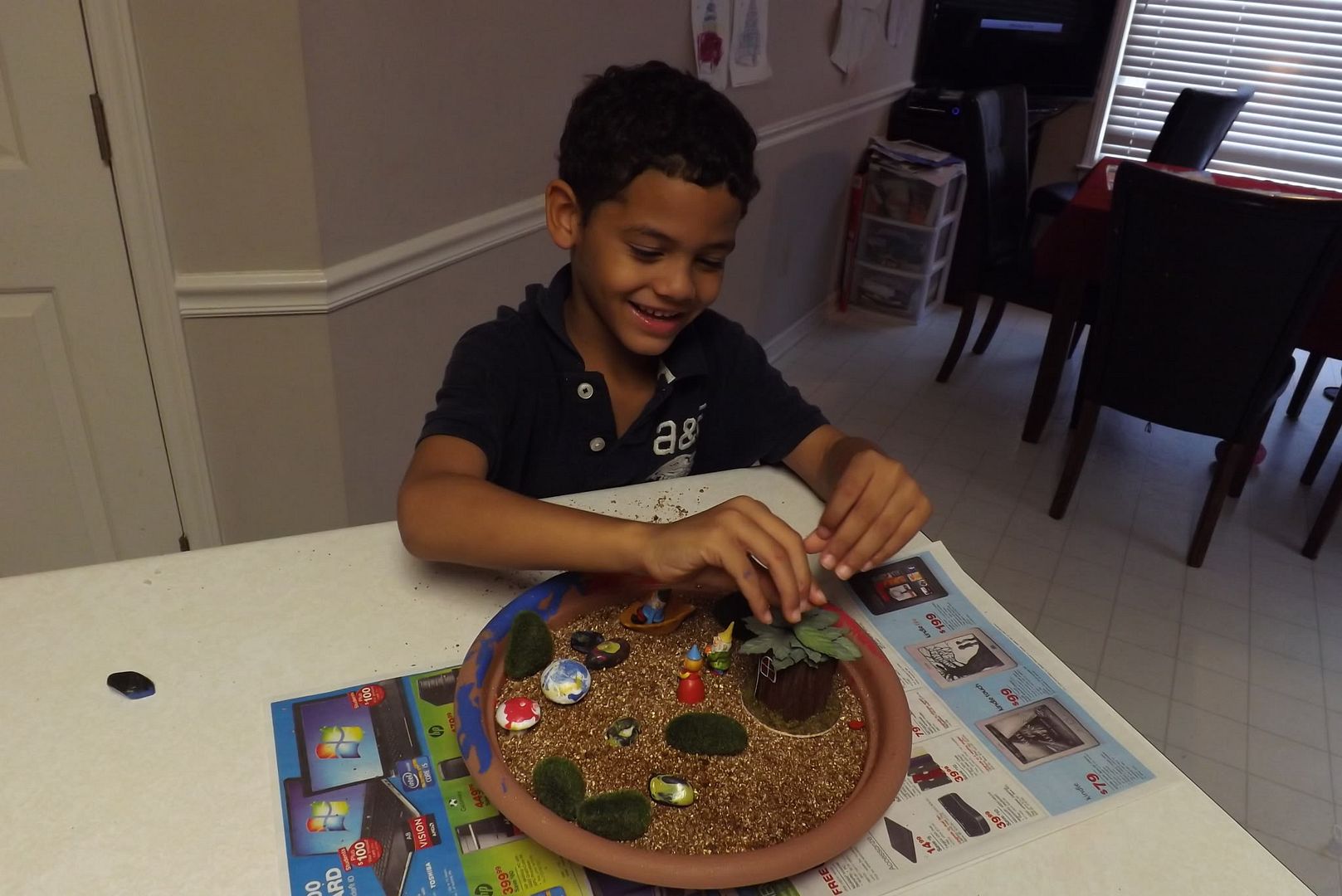 I kept saying we were hanging with our gnomies and Jaidan kept looking at me like, "REALLY? Did you SERIOUSLY just say that?"
The finished product is now sitting by the kitchen window, waiting for the grass to grow (the instructions said it would take a few days but it's been over a week now and nada. It could have something to do with this little thing I possess called a BLACK THUMB).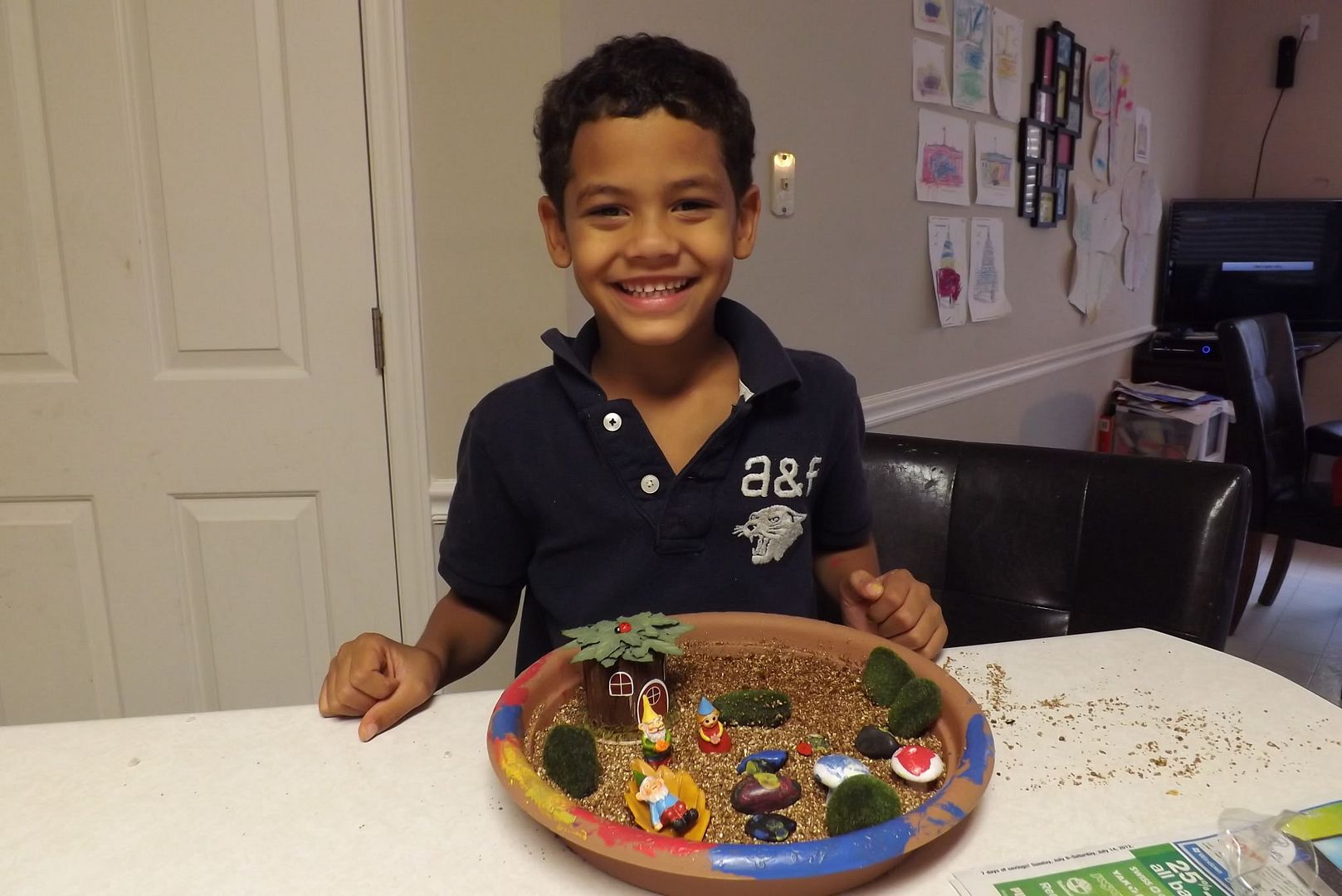 And that soil mess was with ME pouring it!
Later in the week, we pulled out the Deluxe Glitter Art Kit. Actually, Jaidan kept pulling it out and I'd be all, "can we PLEASE save that for a minute when you're bored out of my skull" and he'd be like "But I AM bored out of my skull and, besides, GLITTER."
This kit is more suited toward girls. There's a lot of pink and purple and hearts and ribbon. But that didn't matter to a certain five (and a half!) year old boy because . . . GLITTER.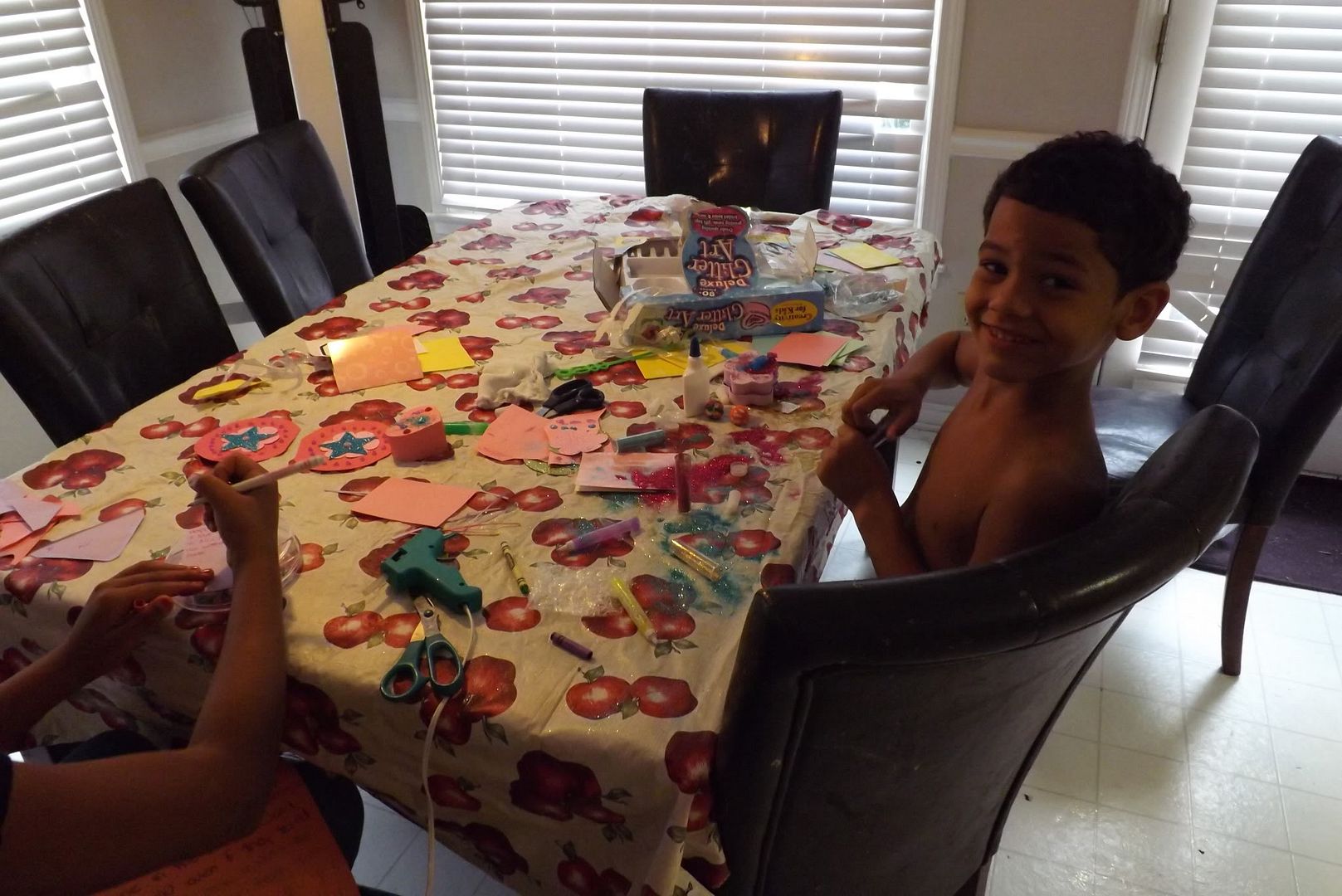 I was smart enough to put down an old tablecloth for this project!
The Deluxe Glitter Art was FULL of projects. Gift cards, tags, and cute little boxes and glitter, glitter pins, jewels, and ribbons to decorate with. Jaidan and my stepdaughter, who is 11, both had a blast making all sorts of projects.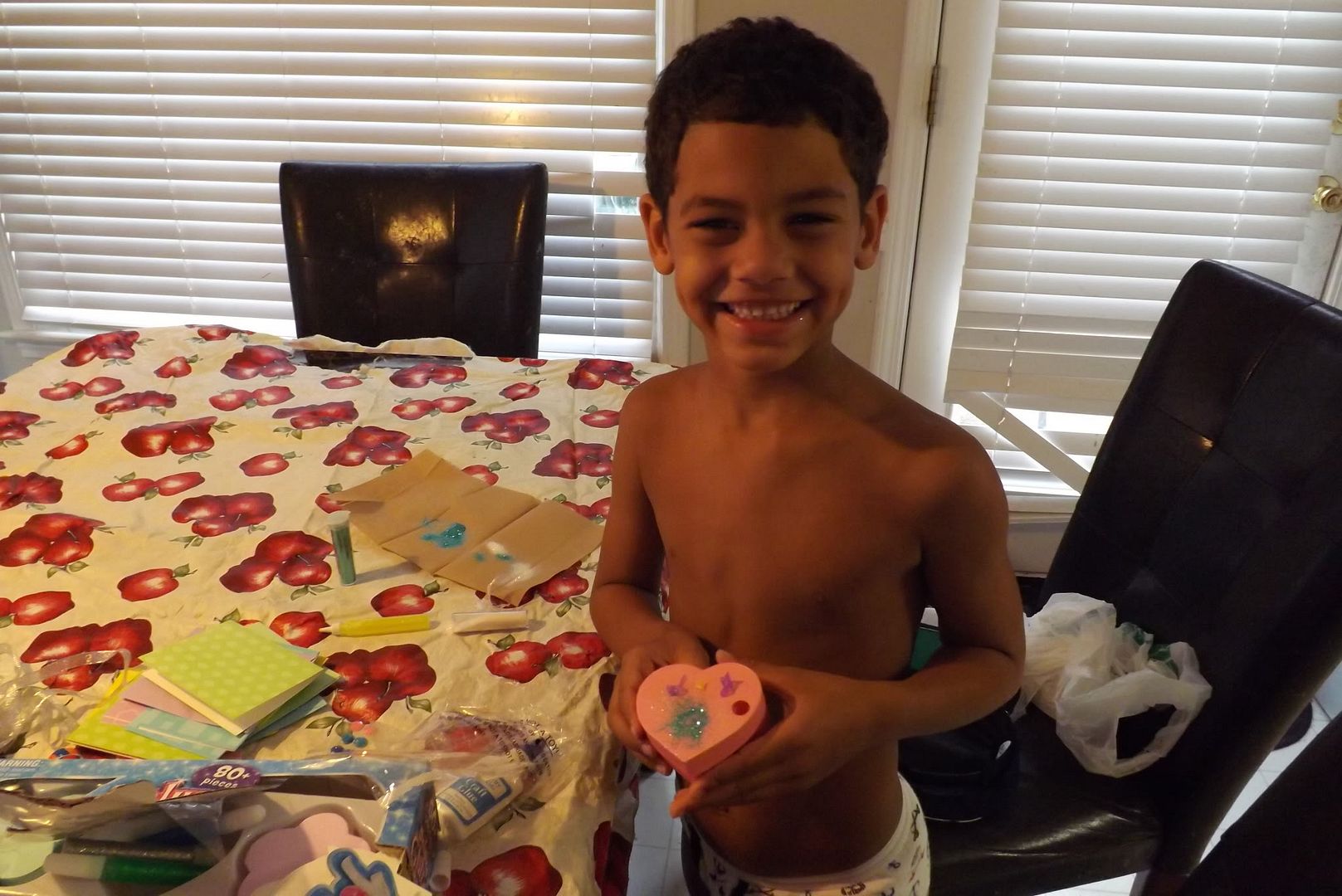 I'm still cleaning glitter out of my kitchen but it's okay beacause the kiddos had a b-l-a-s-t.
I can't review the tile art necklace kit because we decided to pass it on to a little girl we know who is currently in St. Jude's. Jaidan decided that she'd probably appreciate and enjoy it and that it was the right thing to do.
The kit looks like so much fun! It comes with all the supplies to make eight tile necklaces and even includes gift boxes in case you want to give one or two of them away.
Both kits we tried out were great quality (yay for mom!) and lots of fun (yay for kids!) The kits were most definitely something I'd pick up as a boredom shaker for the kiddos!
All you need to do is leave me a comment (make sure you leave your email address or have your email tied to your profile so I can contact the winner). Any old comment will do -- I'm not picky. The contest will run through next Monday, August 13th. Winner will be chosen randomly. Good luck!
Disclosure: In exchange for publishing this post, I received free materials from MomSelect. All opinions are mine and mine alone.