1) My boy had a very busy fourth birthday yesterday. A couple pictures from his Big Day: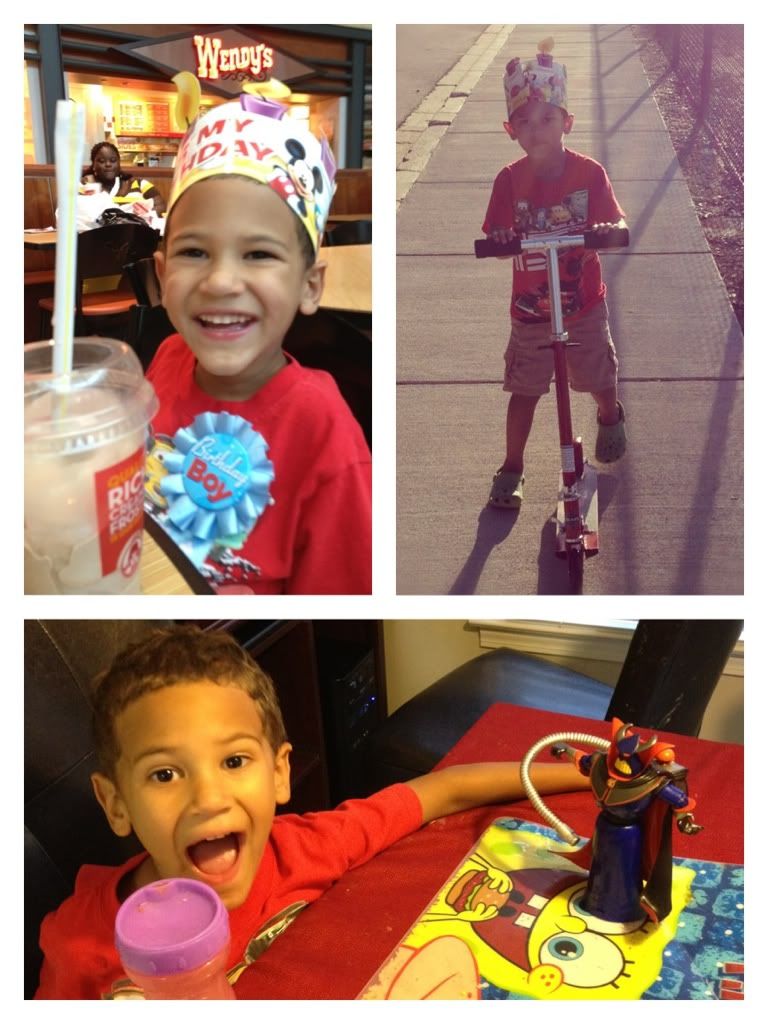 He had SUCH a fun day. Oh man. And our little grumpy old man was in the best.mood.ever. the whole entire day. He told me he wished every day could be his birthday. Me too. Me too.
2) So proud of our president!
I was an Obama supporter in the '08 election and while I'll (probably) vote for him again this time around, it won't be as enthusiastically. But I'm really proud that he (finally) took a stand on this issue. Equal rights, people! I can't help but think that fifty years from now our grandchildren will look back at the equal rights struggle the same way
my
generation looks at civil rights.
3) I picked up some blackberries for the first time this season the other day. We had them with breakfast this morning and, mmmm, they were so good. And those were from the grocery store! I love all the fresh fruits that are available this time of year. Probably one of my favorite things about summer.
4) You know what's tougher than being five and it being your brother's birthday? Being
two
and it being your brother's birthday. For the most part, Karis was good to go and enjoy the ride. But, dooood. When the waitress brought out Kyan his free ice cream sundae yesterday afternoon, it led to a good old 2010 Asshole tantrum. She also had her Stank Face on during the opening of the presents and yelled, "No, no, no!" while we were singing "Happy Birthday." Ahhh, the fun of having multiple children . . .
5) My #instamay pictures from the past week:
Day 3 - favorite color - Razorback Red! #wps
Day 4 - clouds - there weren't very many that day . . .
Day 5 - Pattern
Day 6 - Breakfast - scrambled egg whites with cheese and salsa, turkey sausage links, English muffin with honey
Day 7 - Nostalgia - sign from my Granny's yard
Day 8 - shadow - here are two of mine
Day 9 - Love
6) Over the weekend, I dumped all the pictures from my phone onto my computer. That was . . . Saturday or Sunday. And since then I've already managed to add another 100 pictures to my phone. I think I have a problem. Is there a 12-step program for someone who takes too many pictures?
7) I haven't mentioned anything about this yet but . . . I think I might be crazy. Like, really officially cray cray. We're already planning a trip to California in a couple of months. We're driving. With four children and a Storme. If that's not insane-in-the-membrane enough for ya then, well, what about making it a coast to coast type of summer? My mom and grandma are going to visit my brother and his family in Virginia and I'm about 98.32903% sure that the kids and I are going to go with them. We'll spend most of the month of June away from home but I'm okay with that. Our trip to Virginia (I've never been!) will give us time to visit with my brother and to go to Washington DC (never been!) and see some family in North Carolina (never been!) and eat lobster in Maryland (never been!). Okay, so I'm not quite sure the whole eating-lobster-in-Maryland thing will happen but I want it to. I'm really looking forward to the trip! Once we make it home - for good, from California and from heading east - my kids aren't going to want to leave again for a long time.
8) Jaidan was up before 7:00 this morning. This kid could easily sleep until 10:00 every day and when he wakes up early then I know my day is kind of going to suck. Lord help me. I know we have to get him used to waking up early before he starts school in August but I didn't want to start
today
.
9) So far we have no plans for Mother's Day. We thought about going to celebrate with my family but . . . we have two big trips coming up in about a month. We really need to conserve our funds. I thought I'd possibly like to go pick strawberries (I know, right? Woah, excitement here!) but they've moved rain into the forecast for the day. Mother's Day will probably just be sleeping in (
better
be sleeping in) and lunch somewhere. I ain't cookin' that day!
10)