I've been pretty boring this week. I've basically just been reading
The Help
(finished it last night!) and pinning stuff. In addition to, you know, cooking and cleaning and making sure the children don't kill each other (or me). Here are a few of the pins I've tried over the past couple weeks.
Yummies:
Light King Ranch Casserole
- I used to hate Mexican Chicken Casserole. I have no idea why because, basically, it's pretty much the best stuff ever. Don't argue with me. This was a slightly lightened up version of the casserole and it was totally delicious. Karis cleaned her plate and yelled for "marrr!" In fact, I think everyone except Kyan asked for seconds. I used more cheese than the recipe called for (I think it called for, like, a fourth a cup. Not gonna work for this family). Also, using corn tortillas instead of chips cut hella calories.
However
. My husband ATE HIS OVER CHIPS. This man. Seriously.
Baked Cheese Balls
- I actually made these twice this week! Once for a snack and once for dinner (we had appetizer night). So, obviously, we really like them. I dipped them in egg whites rather than milk and the second time I made them I tried using panko (use regular bread crumbs -- it works so much better). I froze the cheese before coating them in bread crumbs and baked at 400 for about five minutes. They were super yummy!
Cheesy Baked Tomatoes
-
I made these to go along with appetizer night as well (if you're interested, we also had mini corn dogs [I used turkey hotdogs], baked tortilla chips with salsa, and Texas cheese fries). I don't like tomatoes but I LOVE provolone cheese so I figured I'd give them a try. Ummm. No. Not for me. Too tomato-y even with the yummy cheesy goodness. Jaidan and Zhariah both like tomatoes and neither of them were crazy about them either.
Homemade Spinach Manicotti
- People! Do not pass go. Do not college $200. JUST GO MAKE THIS MANICOTTI. It takes some work (I made the Italian crepes which were totally delish) but it's worth it. I added ground beef to some of them because I knew Eddie wasn't going to eat them without any meat. I actually planned to make them on a night when he was working and therefore not home for dinner. But he saw the picture Pinterest and asked me to make them. He must've really liked them, too, because he took all the leftovers with him to work the next day.
Baked Apples
- These were really good. We had them for dessert one night and Jaidan liked them so much that he requested I make them for his birthday! His birthday is still six months away and I'm sure he'll change his mind, but that just goes to show how yummy they really were.
Skinny Taste Pancakes
- Another one that I made twice this week! We had breakfast for dinner one night and I mixed these up. I made them again for breakfast the morning my brother and his family were here. The kids had chocolate chips in theirs and they really liked them. I ate mine with a little bit of peanut butter. They weren't the best pancakes ever but they were good -- especially for being "skinny!"
Easy Cheddar Garlic Biscuits
- Confession: sometimes I buy those mixes of cheddar garlic biscuits. Never again! These were good and incredibly easy. They were a little flat but I'm assuming it's because I mixed the batter too long.
Strawberry Icebox Cake
- Good stuff! I made it about half the size of what the recipe calls for. We had it for dinner one night and since I wouldn't let the kids completely destroy the whole thing then, they also had it for snack the next day. It was delicious and something we'll definitely be making again.
Asparagus Gratin
- Yum! I was the only one in my house who really seemed to like this (the rest of 'em are jerks). But take it from me -- it was GOOD! Next time, I'll do things just slightly different. I'll cook the asparagus until tender and then just put under the boiler for a couple minutes. I think that'll make the taste better overall. But it was really good.
Artsy Craftsy:
So, Storme's 30th birthday was last week so I
had
to do some of the cute "milestone birthday" things I found!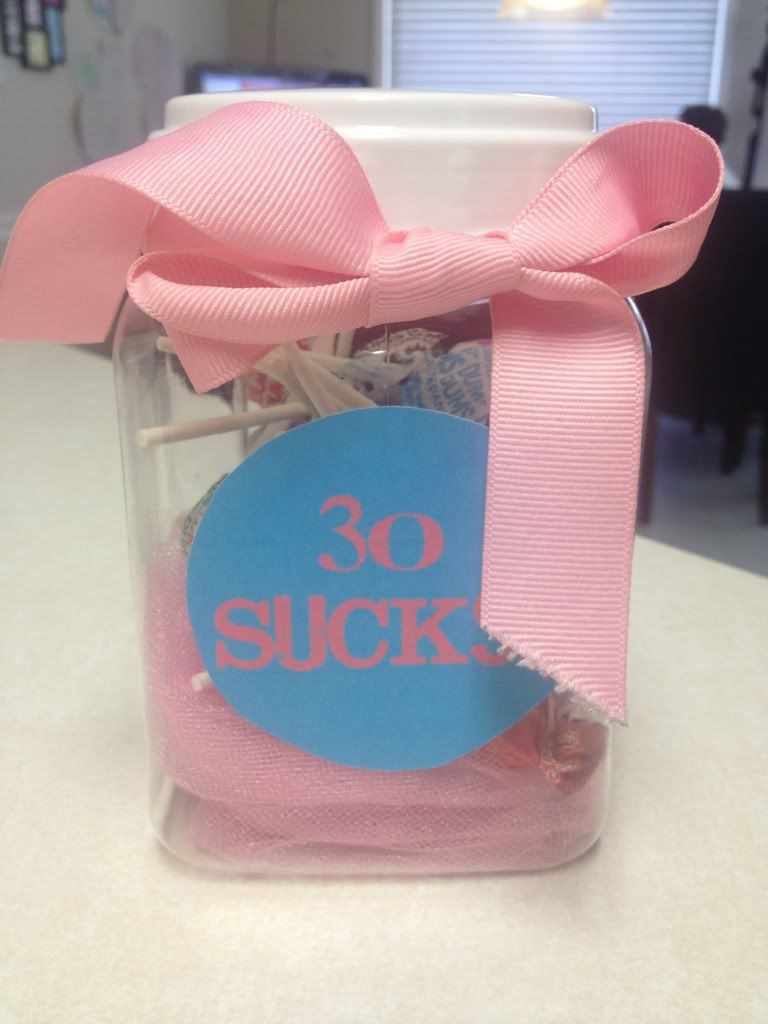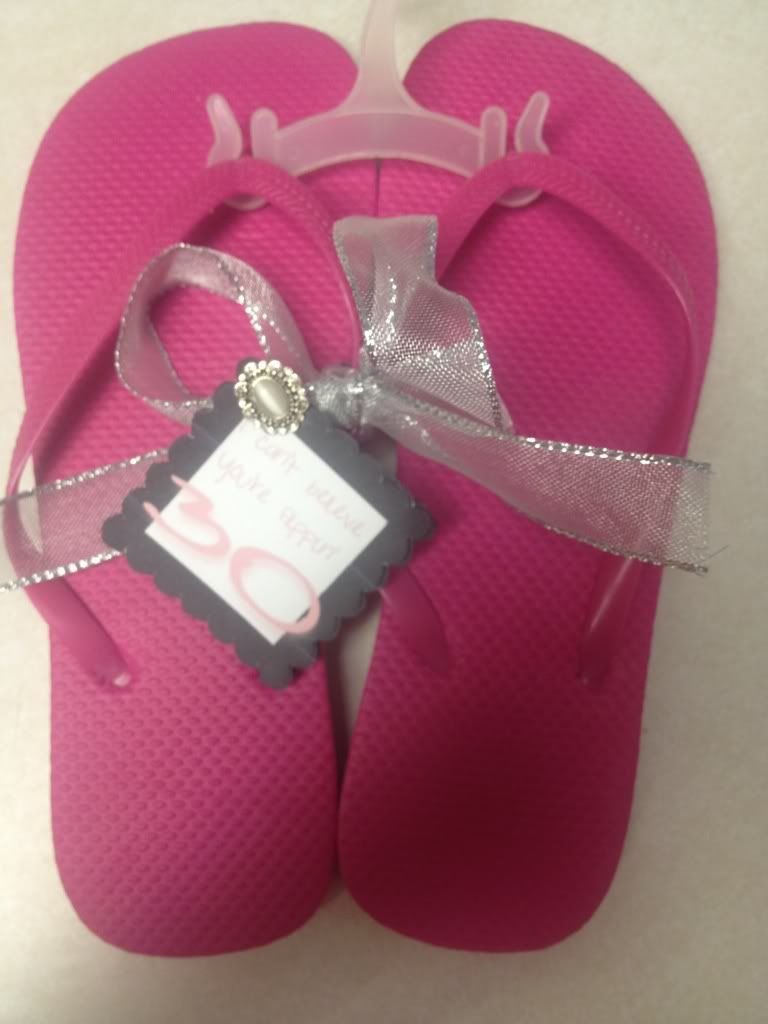 I Can't Believe You're Flippin' 30!
You can't see it, but behind the "flippin 30" is several pictures of me and Storme over the years.
She aslo got a "30 blows" that's a little bag full of bubblegum!
Quite possibly my favorite little Pinterest find from this week. We ALL know one of these people!
Happy Saturday! Karis has been up since before 5:00 and Kyan since before 6:00 so I see naps in our future!