1) Woot Woot! It's Groundhog Day!
1) Woot Woot! It's Groundhog Day!
1) Woot Woot! It's Groundhog Day!
1) Okay, really now, enough of that. It's Groundhog day and seeing as that little bastard didn't see his shadow last year and we still had
55 degrees in May
I have been chanting "shadow, shadow, shadow" for the past week. We celebrated this Super Special Day with Groundhog pancakes for breakfast.
Food coloring on coconut for grass, a donut hole groundhog with craisins for ears and an M&M for a nose. Peanutbutter as the "shadow."
#healthiestbreakfastEVER
We'll have another groundhog food for snack and that'll make up for me being hungover on Valentines Day (I, like, have ESP ya'll and I just
know
) and therefore not willing or able to dole out heart shaped pancakes and cute cookies with red and pink sprinkles.
2) I am having some major kindergarten anxiety. There are a lot of reasons. Little things like, oh, the 100th Day of School (yes, I realize I have 350+ days before I have to worry about that one) that has apparently changed
so much
just in the eight years (eight? Seriously?) since I last worked at an elementary school. I feel like I should already start sewing Jaidan an Old Man costume to wear on the 100th Day. Oh! And first day of school gifts for teacher. Do people really
do
that? I see them all over Pinterest. Am I automatically going to put in "that parent" category if we don't show up on the first day with a Starbucks giftcard and a "Thanks a Latte" card in hand?
I'm much, much,
much
more worried about two things in particular. The first being J getting saddled with an asshole teacher and hating school, losing his love of learning, and everything that an asshole teacher can do to a kid. And I'm terrified - TERRIFIED, I tell you - of other kids. I already just know that Jaidan will probably learn the f-word and he'll be told there is no Santa Claus. And I can, eventually, come to terms with all that. But I'm really scared of the first time he realizes that someone does not like him. I know that sounds stupid but follow me here -- Jaidan loves everybody. He's outgoing and he's one of those "never met a stranger" type. I don't think there's one person in this world that he just does not like (he may tell you different about his baby brother every once in a while . . .) If we take the kid to the park, he leaves with four new "best friends" and a couple new girlfriends. He's a people person and I'm not sure how we're going to handle it when some little Kindergarten Asshole decides he doesn't like him just because he has curly hair or he's the tallest person in the class or he made the mistake of telling them that he still likes to watch
Wow Wow Wubbzy
and calls me
Mommy
.
Ugh. I think I'm going to move all my children into a bubble.
3) I'm leaving for New Orleans one week from tomorrow. I made a to-do list for the next week. Just looking at it makes me break out into a cold sweat.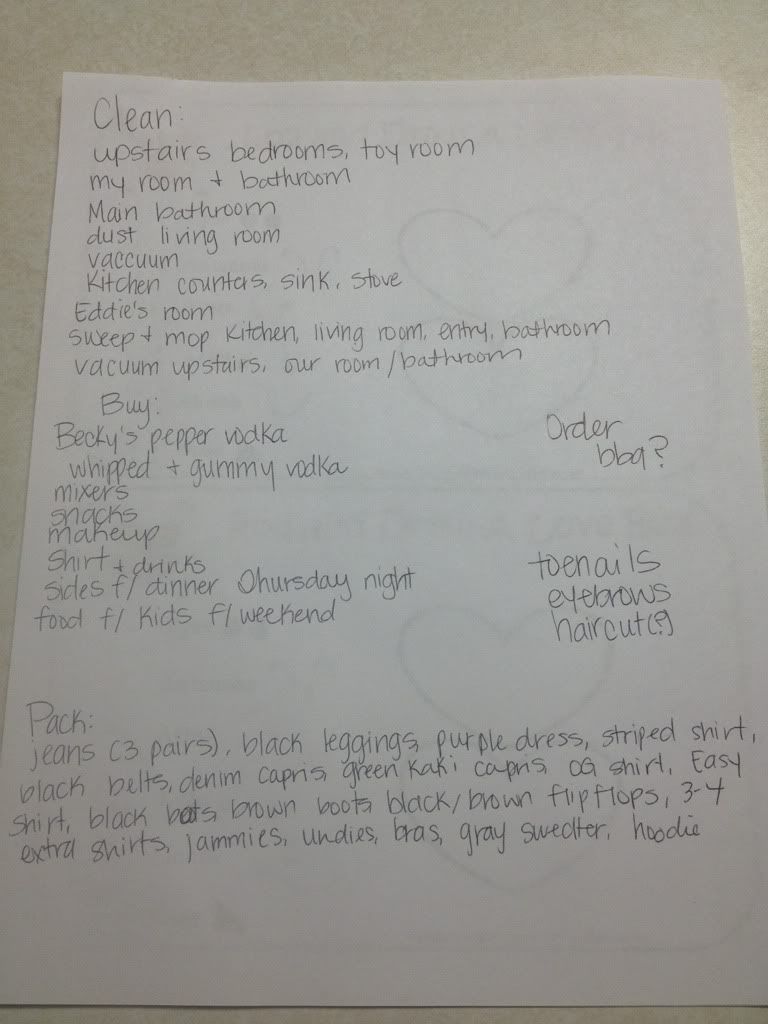 I also realized this morning that I forgot a couple things. I didn't write them down at a time and now I can't remember what they were. Wonderful!
4) I am daily reminding myself that Accuweather is usually anything
but
.
5) Two things I purchased on a recent grocery shopping trip. (I know you care about this SO much).
The Raisels call themselves the "healthy alternative" to gummy snacks. I read their list of ingredients and am quite skeptical on the "healthy claim." However, they have far loss mechanical and processed shit than anything with Dora or Spongebob on the box. They were only $1 so I picked up a box. Kyan won't try them. Jaidan loves them and I find them oddly addicting. Kind of like sour lemonheads, you know? You eat one and you make a face but then the sour taste leaves and you're all, "hey, this ain't too bad."
The Snickers mini ice cream bars are my BFF! I actually discovered these back when I was pregnant with Jaidan. Technically, Jaidan's father discovered these. I sent him to the store to pick up some other kind of ice cream and he came home with a multi-pack of mini candy ice cream bars. I wanted to stab him at the time because THAT WAS NOT WHAT I WANTED. But, mmmm, now I know that if I'm ever forced to say anything nice about the man I can reveal that he introduced me to these little mini ice cream bars. Nom, nom, nom.
6) I noticed dafodils in someone's yard the other day! I love this winter! I think if we had mostly 60's in January then that calls for 70's in February and 80's in March. Right?
7) Last week I sold the crib bedding both boys used as babies. It made me a little sad.
8) I think one of the most annoying things about parents is that they pick up on baby words or phrases their kids use and continue to use them for years. I hate that. But I do it too! I swear I'm trying to stop. My biggest ones are "chocky milk" (chocolate milk), "pancakies," and "greenie beanies." I've also found myself calling waffles fwa-fwa's as that is Kare Bear's baby word for them. Somebody please send help. Stat. Being a stay-at-home-mom has completely fried my brain and reduced me to this.
9) The weekly "Nola Brain" segment: beignets! Crawfish bisque! Oysters! Po' Boys! Pralines! Hurricanes! 
10) I know this list has been around forever and three days. But it's currently making the rounds on Pinterest and it makes me want to poke myself in the eye because I AM A GROWN UP.