I'm pretty sure I'm dying.
My boys did this tag team Linda Blair thing on Thursday. I woke up with it shortly before midnight last night.
Misery
. To make things worse, Karis also has a touch of it. And Eddie is at work.
Sick. Home alone with one sick kid, one whiney "still doesn't feel good" kid, and one kid who is bouncing off the walls and asked me four times if he can take a shower.
Yes, please, whatever. Just let me die on the couch with my Snuggie.
Anyway. Good thing I wrote most of this post yesterday because just the thought of food - even yummy recipes - *cue queasy stomach.*
Yummies: Sweets:
Crockpot Apple Crisp
- One of my favorite things about fall is the food. Pretty much anything apple and pumpkin and I'm on that. I'd been wanting to make an apple crisp for a while. And my crockpot and I have a
relationship
so this was the perfect recipe! And it turned out sooooo yummy and left my house smelling delicious! I did peel my apples (she didn't in the pictures) and added cinnamon. Lots and lots of cinnamon. I used oats for the topping and next time I don't think I'll make
quite
as much. Or you know what I think I'll use instead? Graham crackers. Mmmm. I also subbed lime juice (what I had on hand!) for lemon juice. I cooked it on low for about four hours. Seriously, it was just DELICIOUS! Make it. Immediately. It's a recipe you cannot mess up!
Yummies:
Chicken Parmesan Bake
- My stepdaugher LOVES chicken parmesan. I hadn't made it in a while and she'd been requesting. I found this recipe and thought it was a neat little twist. It turned out really good! The boys were sick that night and didn't eat any and Eddie was being a jerk (and therefore didn't eat any) but the girls and I loved it. I followed the recipe step by step and think I'll do things a bit differently next time: I'll add a layer of sauce on top of the croutons and I'll definitely add more cheese. By the way, the red pepper flakes at the bottom of the dish? Mmmm. I never thought of that before but it gives the chicken an amazing punch of flavor.
Kid Stuff:
Rainbow Rice
- I've dyed pasta before but never even thought about dying rice. We had some half empty boxes of old minute rice that were perfect for this activity. So we dyed the rice! Here's a little hint: if you don't want to try to keep little hands out of the rice while it's drying, just let it sit overnight in the bags you mix it in. It'll dry on it's own -- just not as quickly. And we used the rubbing alcohol to dye the rice, but if it's anything like coloring pasta you can also use vinegar.
Halloween:
Frank the Frankenstein
- I thought these little Frankensteins were so cute! Jaidan and Zhariah made a couple of them one afternoon: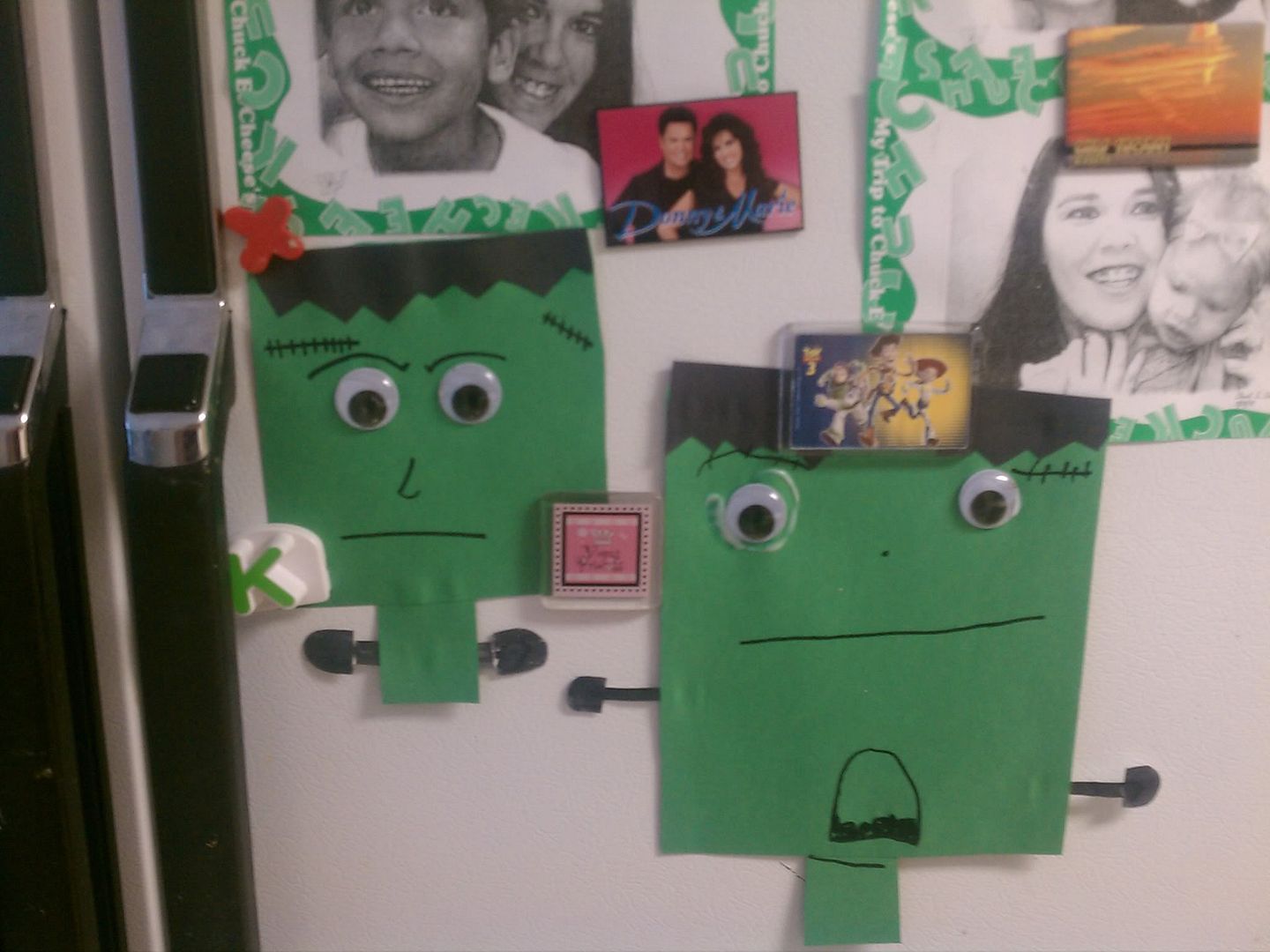 The blog that this is pinned from? IT IS SO CUTE AND FUN! It made me miss the days when I worked at an after school program.
Pumpkin Craft
- We decided to use our dyed rice to make one of these cute little pumpkins. I drew it, Jaidan glued and "riced" it. the stem and leaf look a little funny but it turned out pretty darn cute!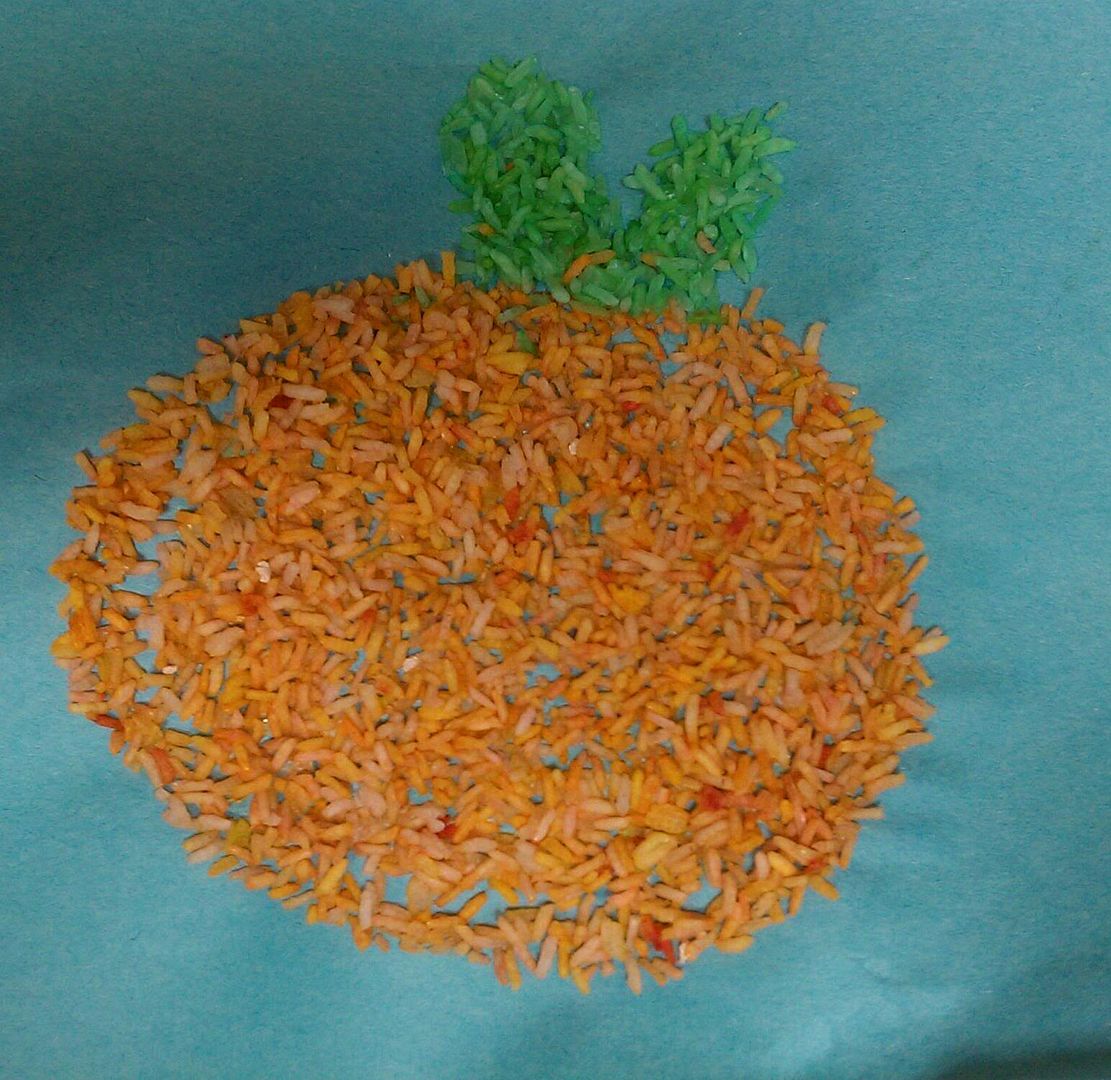 Fun Ideas:
Presents on the Hour
: I did this with Jaidan for his birthday. He got to open one present an hour from 7:37 a.m. to 7:37 p.m. (the exact time he was born). I used gifts that were cheap (think the dollar bins at Target) since this wasn't his "main" gift. It was a really fun little tradition to start. I know I won't be able to do it when he's in school (boo) but maybe we can do presents for the hours before and after school? We'll see. And I'll definitely be implementing it for Kyan this next year and Karis when she turns three or four.