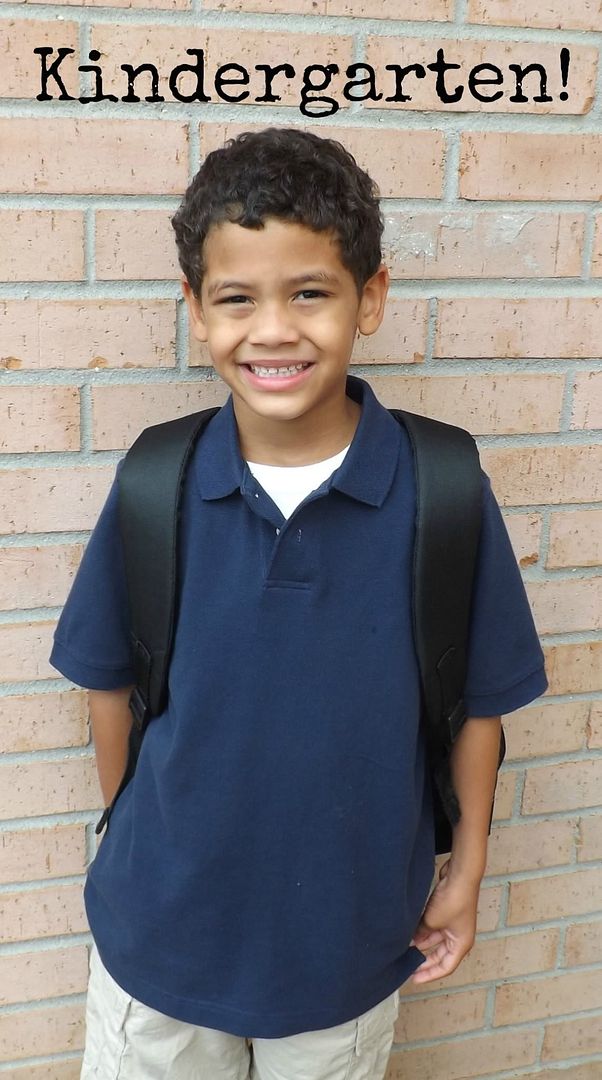 I want my kid to like school.
I could give you a whole list of reasons I decided to make a Big Fat Deal out of him going to kindergarten but it really comes down to that one little fact: I want him to like school.
It's not all up to me and I get that. I know there are other factors involved. Maybe he'll draw an unlucky hand with his very first teacher. Maybe the classroom will be overcrowded and he won't do well with a bunch of other kids. Maybe this, maybe that. Anything could happen. But. My attitude has a lot to do with it too. I figure you can't go
wrong
by making a Big Fat Deal out of kindergarten.
So. That said, here's how we made a BFD out of KG.
1) I totally ripped off an
idea I found on Pinterest
. The idea was for a "Back to School Fairy" that leaves a special gift before school begins. I was pretty sure my Spiderman-Batman-Iron Man loving boy wouldn't be too keen on the idea of getting a gift from a fairy. But I knew he'd totally appreciate a little something from a superhero. I found a stock image of a generic superhero and the "Kindergarten Crew" wrote Jaidan a note and left him a little gift.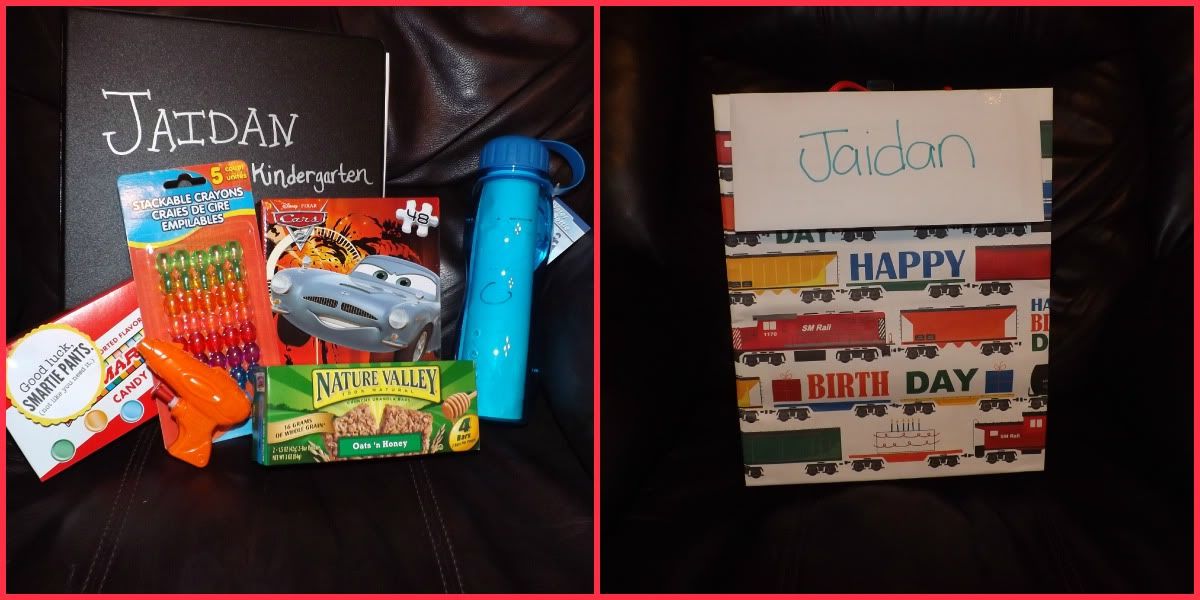 (Almost) everything came from Dollar Tree and I spent less than $5. He got a package of Smarties (the tag reads "Good Luck Smartie Pants"), stackable crayons, a water gun, a puzzle, granola bars, and a water bottle. And, yeah, that's totes a Birthday bag. Recycle, bitches!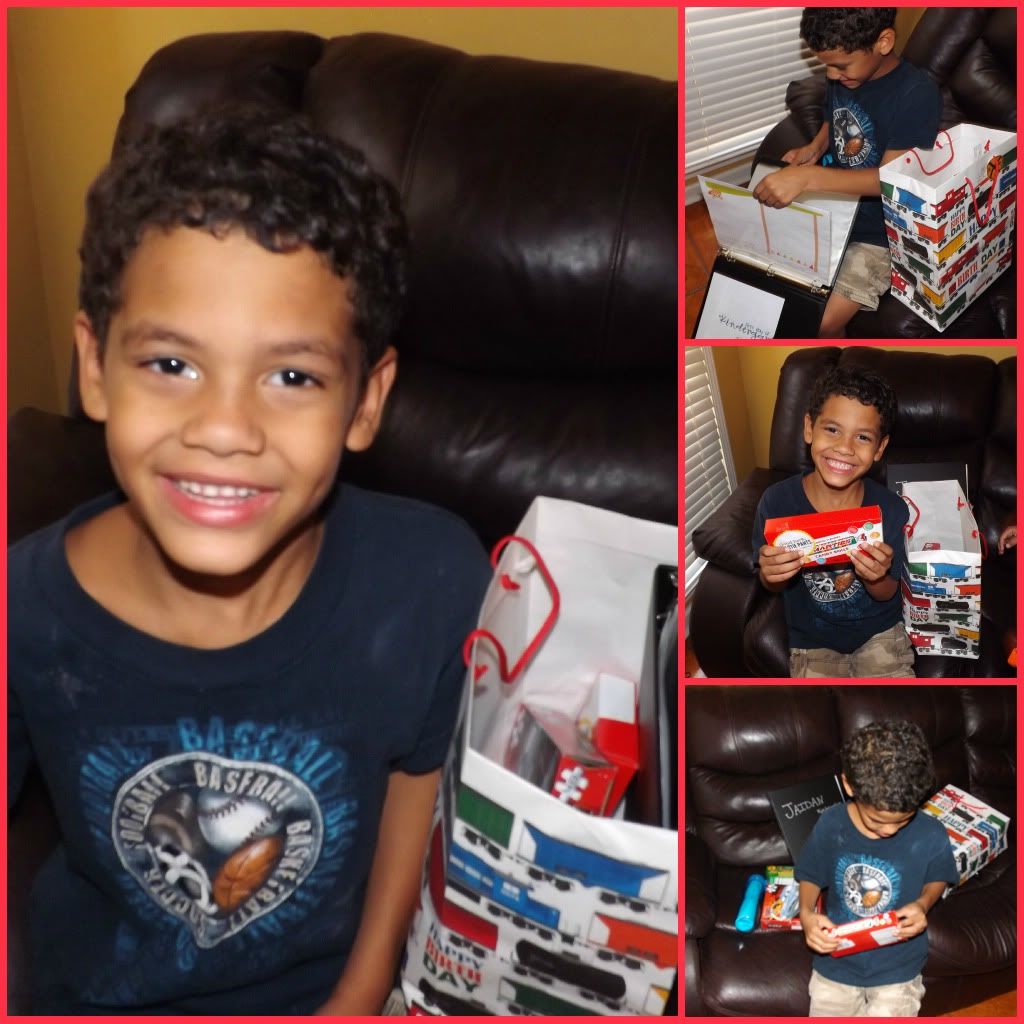 I also included Jaidan's "kindergarten binder" in the bag. The binder has a couple of "about me" sheets that tell his favorite things -- I thought that would be fun to look back on at the end of kindergarten, to see how much his interests have changed. We'll also include in the binder different fun things he does through out the year. He may not appreciate it now but maybe - possibly? - he will when he gets older. This depends, of course, on me actually keeping up with it. We'll see.
2) We partied!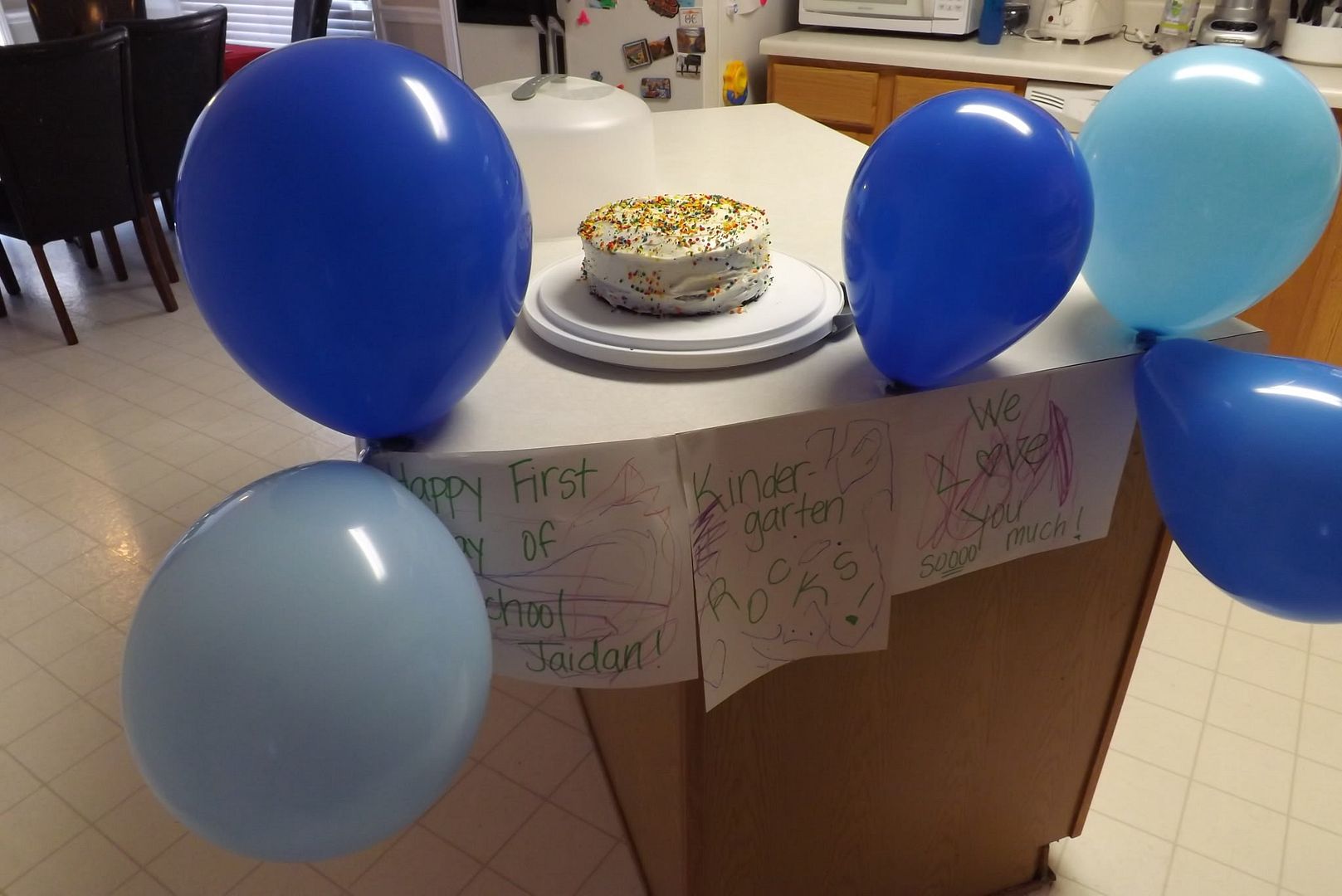 His first day of school, Jaidan came home to a "First Day of School Party." We decorated with homemade signs and balloons, made him a cake, and - oh yeah - we busted out a can of silly string!
I hope I can do a special "first day" dessert every single year on the first day of school. But I figure the very very first day deserves a PARTY. He is never again going to have a very first ever day of school. Might as well make it as special as possible.
3) We had a special dinner.
The dinner was actually for two reasons: dude was a rockstar getting his vaxes needed to start school and he, you know, started school. I told him he could pick anything he wanted for dinner - meaning "pick something for me to cook that night" but he wouldn't budge from wanting Buffalo Wild Wings. So Thursday night, the whole family went out to dinner and celebrated Jaidan's first day of school.
That's it in a nutshell: out Big Fat Deal out of kindergarten. Here's hoping it was a kick off to a great and amazing school career!